Seven Kingdoms – Zenith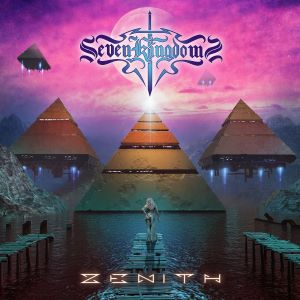 Seven Kingdoms formed as a five-piece band in 2007. Hailing from Florida, they had a more death metal sound but quickly shifted to their primary love of power metal. Featuring the bombastic, thundering drums of Keith Byrd and the twin guitar assault of Kevin Byrd and Camden Cruz, the band is rounded out by vocalist Sabrina Cruz. Yeah, this band comprises a husband-and-wife team with a pair of brothers. Is it any wonder they're a close-knit group?
Independently Released
Band Members:
Sabrina Cruz – Vocals
Camden Cruz – Guitars
Kevin Byrd – Guitars
Keith Byrd – Drums
Zenith is their fifth full-length album, all of which have been crowd funded. By far the most ambitious, Zenith raised above and beyond their stated goals, hitting stretch goals and ensuring every dream the band had for this album will be fulfilled. There will be videos for every song, vinyl pressing, and merchandise for the tour(s). If the band was even remotely afraid, they did not have the fans on their side; that question has been answered with a resounding "HELL YES!!!"

Zenith was self-released on June 17, 2022.
Tracklist:

Diamond Handed
A Silent Remedy
Love Dagger
Chasing The Mirage
Valonqar
Empty Eyes
Magic In The Mist
Universal Terrestrial
The Water Dance
Life Signs
I Hate Myself For Loving You
The album starts with a killer riff and a beautiful rhythm. "Diamond Handed" blazes a trail and sets the pace for the rest of the disc. Sabrina's vocals go above and beyond what is needed to make this a good song. The layered keys and the trade-off guitar solos build the song up, leading to one of the best-belted notes I've heard from Sabrina to date. She's been working hard on getting that voice to this point, and the work has definitely paid off.
From there, we head into "A Silent Remedy," a song with some excellent keyboards layered underneath that fantastic guitar riff. Kevin and Camden use this song to let you know they can work perfectly in tandem or venture out from each other and widen the song's tone. Keith just sits back on his throne and demolishes his kit. Having met him and knowing he is a fan of old-school Helloween-style drumming, you can hear his love for power metal percussion.
Changing the pace, "Love Dagger" is a bit of a throwback to a more pop sound. This is like a modern 1980s power ballad. Sabrina sometimes throws a little cry into the voice, using a chesty belt at others. The first solo reminds me a bit of George Lynch from Dokken during his early days. The keyboards reinforce this belief of an 80s image. Some bands try to bring the past forward and sound contrived. Seven Kingdoms absolutely nails it!
"Chasing The Mirage" is a scorcher. The guitars, doing some twin lead work, are stunning. I think Camden and Kevin are tighter now than they ever have been. More than a decade of working together has forged a bond that now appears to be unbreakable. The mix on this record is REALLY good, but their union goes even deeper than a good mix. Add to this that Keith has been here just as long, and you get one of the most consistent and tight-knit groups on the power metal scene today.
"Valonqar" begins with a haunting melody and some ethereal vocal tones. Sabrina is in rare form, alternating between highs and lows, throwing in some well-placed grit, and generally showing her entire range. The song is a bit slower, almost dropping into the stoner/doom realm. The tempo is sludgy and really dark, making this one of the most dismal songs Seven Kingdoms have done. And they crush it! The song is ambitious, complex, haunting, and beautiful simultaneously. As good as the whole record is, this is quickly becoming a favorite just because of the distinctive tones it uses to set the mood.
The next track takes us back to the more chugging rhythm. "Empty Eyes" is another song brought from the past to fit into this killer record. First on an EP from 2019, this is a song that needed to be reheard. The track fits beautifully with the theme of Zenith. The guitar work is on point, and the solos are precise. The vocals are stunning, and the drums sit in the perfect pocket. Add in the futuristic key tones, and the song just fits in like a piece of a puzzle.
"Magic In The Mist" starts with another futuristic keyboard riff, tying itself to the guitar as it enters. This song features a choir of voices layered together and fused into verses and the chorus. The ethereal vocalizations scattered throughout add more depth to the vocal quality of this track. This is excellent power metal. Keith keeps a pace and uses his prodigious talent to throw in a few fills that make this one of the most shining examples of power metal on the disc.
One of the videos already produced is for the next track. "Universal Terrestrial" is a wild ride of a song. The guitars are over the top in all the best ways. They race, they growl, and they amaze. The vocals are shifted throughout the song, sometimes going under the music and soaring over the top of the riff. There are some almost progressive tempo shifts in this track. Again, the layered vocals are just stunning. Everything Seven Kingdoms is doing on these tracks is so well thought out and executed. They are 100% on the top of their game right now.
Starting with a brutal riff, "The Water Dance" is a rapid-paced slugfest of a song. The bass line is thundering, which is what it has to be to match those guitars. Keith is just being Keith. He shifts tempo from melodic to bombastic and never bats an eye. He has some of the best double bass in the business. Those tempo shifts are just too cool. I'm having a hard time figuring out which is my favorite track because so many are just so good.
The last original track is "Life Signs," another barn burner with a futuristic keyboard sound layered under a heavy rhythm. Sabrina spends quality time in her lower register, hanging out with those guitars. She does wail a few times, so we get to hear all she can do again.
The album wraps with a cover of "I Hate Myself For Loving You," the Joan Jett classic. With a power metal spin on the track, it feels heavier, and that works well. Grit in the vocals, power in the drums, and heaviness in the guitars make this version stand out from the original. Seven Kingdoms gave this a makeover, staying close enough to the original for immediate recognition but different enough to be unique.
Anyone who follows Seven Kingdoms, or the band members, will see this is a band that likes to maintain peak physical conditioning. They are often seen either working out or flexing on stage. On Zenith, Seven Kingdoms flexes their impressive set of musical muscles. Zenith is ambitious. It is their grandest effort to date and shows precisely how far the band has come in the past 15 years. The band has expanded their sound to include more than just power metal; they never stray far from that base.
This is a band that has matured and grown. Their music has become more complex, the lyrics more in-depth, the feeling more timeless. A quick Google search defines zenith as "the time at which something is most powerful or successful." This album is definitely a zenith of sorts. Seven Kingdoms still has more to offer, but they are most assuredly at their current most powerful, especially musically. As for success, they crushed their original goals and hit all their stretch goals on the Kickstarter campaign. It has never been evident that Seven Kingdoms have earned their place in music as a whole and power metal specifically.
MZ Ratings:
Musicianship

Guitars – 10
Rhythms – 10
Vocals – 10

Songwriting – 9
Production – 9
Overall – 9.60