Steegmoord – Trepidation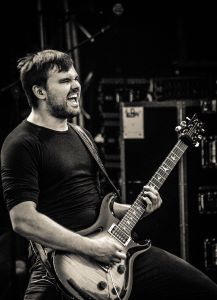 Steegmoord is an instrumental project from Belgian songwriter Maarten Doumen. A veteran of many bands and has toured heavily in the Benelux area, Steegmoord is something he is now putting more energy into, possibly with the hopes of touring. Trepidation is an eight-song, 30+ minute ride through various genres and levels of heaviness. There are elements of Progressive Metal, and Power Metal mixed in with more traditional Heavy Metal and even some Thrash Metal. The guitars are definitely the star of the show but don't let that fool you; the bass and drums are just as heavy, just as driven. This record does not need vocals to melt your face; just the music will do that effortlessly.
https://steegmoord.bandcamp.com/releases
Band Members:
Maarten Doumen – Guitars/Compositions
February 25, 2022
Tracklist:

A Fine Day To Exit
Social Suicide
Morning Cry
Porchlight Reality
Crucified Demons
Trepidation
The Heart Asks Pleasure First
Standing Alone
The record opens with a short song of just over two minutes. "A Fine Day To Exit" sounds like another way of saying it's a good day to die. I pulled that from a song by Helloween, not a psychiatry textbook, so it's a musical reference, not an uninformed diagnosis. The track starts with a rapidly increasing pulsed guitar chord that drops out and becomes a more ethereal tone and pattern. The drum work is good, tracking well with the riff. The lead work on the guitar continues to be airier while the underlying riff is quite heavy.
"Social Suicide" is another ripper, tearing through four and a half minutes with a combination of heavy riffage and some sludgy phrases sprinkled into the mix. Those shifts from the faster tempos to the really heavy chord work are beautiful. There is no hesitation or (pun intended) "Trepidation" with those changes, just straightforward, excellent composition. I don't know what the writer was thinking when writing and naming these songs, but a few of them are titled somewhat depressingly. This music might be his therapy and where he vents his feeling.
A more melodic track is "Morning Cry." The guitar work is still heavy, and the tone is still pretty dark, but there is more a sense of sadness than anger to this track, though it is not full-on depression because there is reason to hope in some of the tones and textures here. At least, that is what I hear. Without words influencing the mind, I can only go on what chords are struck within me. The acoustic-style guitar interlude towards the end amplifies the lighter tones, giving that last bit of hope that is kind of crushed under the outro's heaviness.
I hear the title "Porchlight Reality" and think of what I see from my front steps. Then, I start to think of what others might see from their porches. I see a quiet street that recently had a moose walk down it. Others see despair and squalor. This track feels a bit angry, like the lights show things that are unpleasant to witness. Then we get "Crucified Demons," another heavy, melodic track. This one sounds like it has a keyboard track buried underneath in a few places. It's fast and frenetic, which I'd expect from that title. The lead work on the guitar here is a bit chaotic, giving the impression of a struggle with maybe an inner demon, but again, no words, just my feelings about the song.
I really like "Trepidation." The Thrash Metal in this one is utterly delicious. That guitar riff makes me want to jump in a pit and forget I'm too old for that kind of craziness. This song is a crushing example of everything right and beautiful about heavier metals. The drums are spectacular, driving this riff like a precision sports car meant to be raced. The choppy lead work through the middle is high-quality composition. The melodic sections after the midpoint fuse well into the song's overall theme. Even the bell strikes freaking rock on this track.
"The Heart Asks Pleasure First" is a slower, lighter-toned piece of work that makes me think this guy exorcised many of his demons and finally got to a healthier state of mind before he finished writing the album and decided to share that with us. Since this is the second shortest song on the album, the happiness was likely to die quickly. Who knows? One day we can look into the mind of the creator and understand what drove him on this record.
Wrapping the disc is "Standing Alone," the longest song. This track has some more anger. It reminds me of feeling abandoned like those I needed at the time left me to defend myself when I needed help the most. All I can say is how I felt when listening to these songs. With no lyrics, the music is open to individual interpretation. Listen on your own and feel what you think as you listen.
The music is excellent. The compositions are well-written. This is an album that can and should appeal to a broad audience. There are tons of different emotions represented, feelings being explored through sound. You can catch glimpses of the rage, the happiness, the torment, and the despair he feels as he's writing. Will they be the same as his? Maybe, maybe not. That does not matter. All that does matter is what you feel when you hear this one rattling around in your mind.
MZ Ratings:
Musicianship

Guitars – 9
Rhythms – 9
Vocals – 9

Songwriting – 9
Production – 9
Overall – 9.0