Stormstress/Groundlift/Paper Tigers/Lurid Purple Flowers – Stormstress at The Jungle, Somerville, MA, November 12, 2022
Lurid Purple Flowers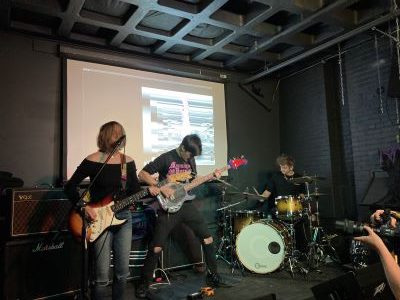 Set List

School (Nirvana)
Darkness (Original)
Hysteria (Muse)
Mr. White (Drum Solo)
On Your Own (Original)
Pink Elephants (Original)
Hyper Music (Muse)
Is It Me (Original)
Addict (Original)
Cornflake (Psychedelic Porn Trumpets)
Lurid Purple Flowers is an exciting band. It's a three-piece ensemble that has only been playing with the current lineup for six months. Despite that, they sound tight, working well together. On a 10-song set, they had a drum solo and five original tracks. That is pretty impressive! They have so many facets to the band. They have obvious alternative influences, as you can tell by the Muse and Nirvana covers. They also have some Prog Metal thrown in, as evidenced by the odd time signatures and interesting transitions in phrasing and patterns.
There was a lot of heavy guitar work mixed with melodic interludes, and they had some really nice bass, and drum fills/leads thrown in for good measure. The vocals were a nice mix of clean and gritty, distorted tones and even a couple of growls if I heard right. C.A. gave off some Lzzy Hale vibes, commanding the stage with an intense presence that was more veteran rocker than a newcomer to the stage. Ben rocked the bass and made sure to make his presence known and felt while Nick, the 19-year-old drummer, put on a killer show despite being tucked into a corner.
On the humorous side, you could say they did put Baby in a corner since Nick was the youngest player of the evening. Sarcasm aside, the song that caught my attention the most was "Pink Elephant." It has a cool groove, and the song is well-written. I plan on digging more into this band, starting with their YouTube (link above).
Paper Tigers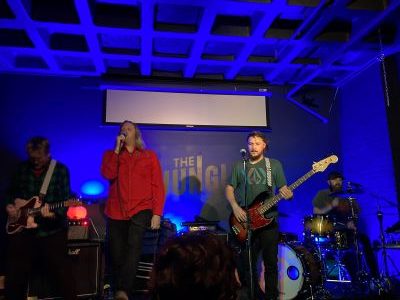 Set List

This Means War
Long Live The King
Wedding Cake
Goldmine
Into That Goodnight
Pariah
Charmer
Paper Tigers was the only four-piece of the night. On a smaller stage, that meant there was less room. To clear up space, the singer spent half the show working the crowd from the floor and occasionally a chair. That is part of what is so fun about smaller shows; the band can jump off the stage and not worry about being mobbed. Working in more of an alternative/rock genre, they carry the harder rock torch well but don't venture too far into the metal realm.
Musically, they work well together. The rhythms are spot on, and the guitar works great with the bass, not overshadowing it. The drums were excellent. Bjarki, Ben, and Matt jammed well, knowing where the others were going. They didn't trip all over each other or run off on their own wild tangents, staying right there "in the pocket." They had excellent grooves and catchy hooks. Their tempos were well-paced and fit their style to a tee.
These guys deserve to flex a little. They've obviously practiced and taken their art seriously, rocking the stage and the audience with fervor, greeting friends (and likely some family) and strangers with equal gusto. Well played, Paper Tigers!
Groundlift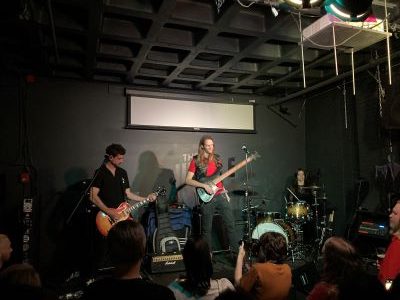 Set List

A Quick Fix
Outta My Head
YYZ (Rush)
Wait My Turn
Population Bottleneck
Commonwealth Ave.
Simple Fact
Servant Of The Snake
You're Electric
Till You Run Out Of Time
Groundlift (one word) hit the stage and decided to just show off. Having studied at Berklee College of Music, they're all excellent musicians. To prove this, they smashed one cover, which just happened to be YYZ by Rush! Leah's kit might not have been the same size as Maestro Peart's, but she played like it was. Ace and Mike kept up, thundering and grooving through all the leads and fills YYZ has to offer, doing the song all the justice it deserves!
As for their originals, there were some alternative influences, but there is also a lot of other stuff. I heard Funk, Punk, Reggae, and a lot of Progressive Metal. All three musicians are technically proficient and adept players. They used odd drum phrasing and patterns, showing off some killer Prog writing. Mike went from slap bass to plucked leads to YYZ fills and even a little solo built in. Ace shredded some on the guitar but spent most of his time on a more melodic, tempered tone.
Combined, this trio is an impressive mixture of technicality and theatrical flair, mixed together into a superb blend of rock/alternative/metal fusions meant to push boundaries and please a broad cross-section of musical interests and tastes. They have a new single coming out Friday, November 18, 2022 (A Quick Fix), and I'm ready to hear how this band sounds recorded and mixed. They are a lot of fun live!
Stormstress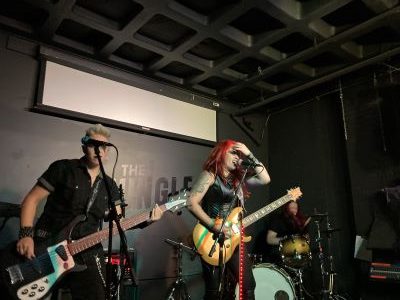 Set List

You Can't Hurt Me Now
Internal Divide
Fall With You
Buried You In The Snow
Paint the Mask
I Wish I Could
Whole Lotta Love (Led Zeppelin)
Blank Space
Corpses Don't Cry
I have to get the negative part of this out of the way. They cut "Gold," one of my favorite songs they do, out of the set due to time issues. BOOOO. Now, on to all the good things about the set! First off, Tanya has her voice back after undergoing treatments for throat issues, and her first show back sounded outstanding. I noticed a little more caution at the show's start, but she was back to form by the end once she knew the voice would hold.
Tia was just as wild as ever, stomping around the stage, hammering that bass, and giving those strings a massive workout. Maddie was her typical solid self, showing out like she loves to do during her "Whole Lotta Love" solo. Her footwork is so cool during that piece, with her double bass being some of the best in the business. This power trio of talented musicians knows how to command a stage, playing the crowd like a fourth instrument, getting them into the show.
The best part of this show was the debut of a brand-new song still in the tweaking phase. "Buried You In The Snow" is not yet recorded, but hopefully will be in the new few months. Meanwhile, we got to hear it in the raw stage. It's already a banging track with a heavy groove and some excellent leads and fills from all three of them, so I'm looking forward to hearing the final recorded version as soon as they release it!
Final Thoughts
The Jungle in Somerville is not a very big place, and the stage does not have much room, but they put together some mighty big shows despite that. All four of these bands put their individual stamps on the night, playing to the crowd and getting everyone involved. Drinks flowed, people danced, and the sound was much better than I'd heard in some places around New England. This was a mix of technical precision, killer jamming, and just generally good music. That was a great way to spend a Saturday night!