Stormstress – Silver Lining Album Release Party at The Jungle, Somerville, MA, April 22, 2022
The Teezers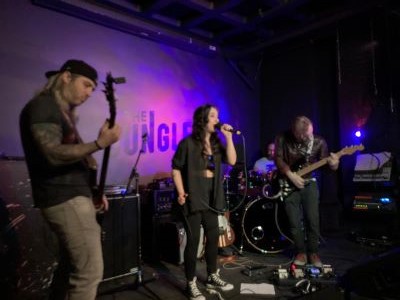 Band Members

Tehya – Vocals
Bryan – Guitars
Josh – Bass (filled in for Noah)
Andy – Drums
The Teezers
Set List

Sister Rift
JMH
Don't Care
Ballad
Gaslighter
The Teezers opened the show tonight with a short, five-song set. They had no merchandise, just business cards. That did not stop them from giving it everything they had. Backed into a corner, Andy hammered out the rhythms on the drums, helping Josh, who filled in for Noah and did a great job, keep the bass solid and in time. Josh did his part. It is never easy filling in, especially on short notice. Bryan is an excellent guitarist, playing both rhythms and leads. Tehya is something you need to experience for yourself.
First and foremost, they played original material rather than take the easy road and throw in a couple of covers to "hook the crowd." Bryan and Tehya work together well. They didn't step on each other's toes, figuratively or literally, on stage. The thing that really struck me the most about this band is that they have room to expand their sound. Tehya is an amazing vocalist. She can flip from gritty, rough vocals to clean in a single phrase, and she can absolutely belt. She held one note for what felt like 15 seconds, and the note had a ton of power behind it. The band can go heavier without fear of overpowering her.
Tehya has Lzzy Hale-style pipes. She has a very diverse skill set. The Teezers have someone that can handle whatever they throw at her. They can go slow and let her croon out a ballad or go all out and have her belt out a heavy tune. The cool thing is, the band proved last night that they are perfectly capable of keeping up with her. There is plenty of talent in this camp. I really look forward to what they do in the future.
The Teezers rocked the stage and set the night in motion. New to the scene, they have one song fully recorded and in rotation on a local internet radio station. "Gaslighter" is a catchy tune. You can find it on streaming platforms and the local internet radio station, Bumblebee Radio. They are also making a lot of progress getting "Sister Rift" and "Ballad" recorded and hope to have something ready for release and to hit the road this fall. Check "Gaslighter" out if you want to get hyped for more of this band. Check out their social media and follow them if you like what you hear.
Key Of Caustic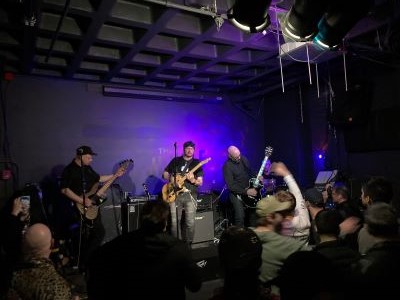 Set List

Pretty Little Suicide
Noodle
Private Well
Fade Away
Call Your Name
Tempest
Myopia
I'm Coming
Now's The Time
Closet
Key Of Caustic is a power-pop/punk band. They have a ton of groove and lots of energy on stage. They went up on that platform and jammed their way through 10 songs while the crowd grooved along. Jimbo is a dude that likes to be on stage, strumming and strutting. Whether he's getting gritty or keeping it clean, his vocals are on point. Vitamin D and Colin both kept a great pace and left no doubt they are seasoned, veteran musicians. Zeus has a habit of shredding. The cool thing is, he's really good at it.
Having never heard this band before (though I will again), I was left with an impression of how they perform live, but with nothing recorded to compare it to. One day soon, I will have to check out their debut EP, Tales From The Rearview Mirror. They impressed with their stage presence and ability to get the crowd into the music. Their set was well done, flowing from one song to the next without pause or hesitation. They're well-rehearsed and masters of their craft. According to their website, they've opened for national acts as they come through Boston, and that is no surprise. They know how to handle their business.
These four guys came to play their hearts out and successfully accomplished their goals. The crowd jammed with them, sticking close to the stage so they didn't miss anything. Some opening acts go through the motions, and the people in attendance can tell. They lose interest and drift back towards the bar, and cluster up with their friends. That did not happen here. Everyone kept their eyes forward and listened actively. Key Of Caustic rocked. I'm sure our paths will cross again in time, and I look forward to that!
Linnea's Garden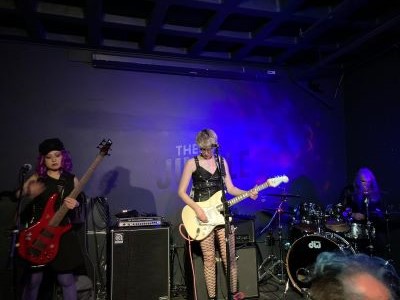 Set List

Cut And Paste
No School
Normal
Looking
Glitter
Seeds
Promise
Rat People
Comeback
Linnea's Garden is a pop/punk band from the Boston area. Hands, the drummer, was a solid ball of energy. His playing was quite good, and he kept a beautiful time. Amy on bass was a bit more of a standout, mostly because I spent the set right in front of her. She got mad skills on that bass. Nimble fingers and excellent rhythm kept me watching her. Linnea is a good guitarist and an interesting singer. She can go low and throaty or higher and almost squeaky. She has a rather killer range and the ability to get diverse in her delivery.
The guitar work is a lot more alternative/punk than the rhythms. Amy's bass was closer to power metal than punk. That sonic dissonance went over pretty well. The lyrics seemed to have a punk attitude from what I heard. Lots of angst and rebellion while challenging the social structure and expectations. They put on a good show and kept the audience focused on their music. They were also the only other band to have a merchandise area set up near the stage. Lots of cool trinkets and their debut album.
Again, this is a band actively promoted on Bumblebee Radio, as are the rest of the acts from this show. Kristen Eck from the station was the host and emcee of the night. She proudly stated Linnea's Garden is on heavy rotation on the station. It's easy to see why. They are catchy and quirky and a lot of fun to hear playing live. They have more shows coming up, and you can find all of that information on their social media. Their links are here; show them some love.
Stormstress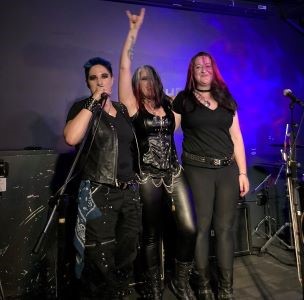 Set List

You Can't Hurt Me Now
Internal Divide
Paint The Mask
Gold
I Wish I Could
Fall With You
Whole Lotta Love
Blank Space
Corpses Don't Cry
When these three walked on stage, you just knew something magical was about to happen. From the first notes to the final bow, this power trio had an energy and aura about them that was just not to be denied on this night. Silver Lining is the debut album by this band, and this show was all about the release of that disc. I'm proud to say I bought the first copy of the disc at the show, though I'm sure others got the album before I did. I got there early and watched the band members' faces light up as the crowd continued to grow throughout the evening, eventually becoming a sellout crowd!
Tanya, Tia, and Maddie mixed and mingled with their fans for most of the night before rocking the stage. They spoke of nerves and excitement and more than a bit of anticipation. When it was time for the show to start, they were ready, and so was the audience. They began with a song they shot a video for a while back, and the crowd knew it well. "You Can't Hurt Me Now" is a bit of an anthem to that crappy ex who gets irritated when they can't inflict more pain.
From the first notes of "You Can't Hurt Me Now" to the last beats of "Corpses Don't Cry," these three owned the stage. Everything in between was a celebration of music written and performed by a band that really knows how to create a vibe. Screaming guitars, thundering bass, and pounding drums ruled the night, and everyone got lost in the sonic bliss that is Stormstress. Tonight truly was the perfect storm!
Tanya and Tia took turns on vocals, swapping lead and backing duties. Both of them never missed a beat with their respective instruments while singing. Tia is a beast with her five-string bass. Her grooves and rhythms are delicious. She is not just a part of a rhythm section; she can take the lead and make the bass stand out front without overshadowing the guitar. And her vocals are equally good. She can turn on the grit or keep it nice and clean, whether she's lead or backing.
Tanya is much the same in many ways. It is not hard to believe Tanya and Tia are twins. Their vocal abilities are very similar, though I did hear a few things from Tanya that I didn't get from Tia (though I might have just missed it). I heard/saw Tanya growl a few times, and she also threw in a significant amount of cry in the voice in parts of some songs, especially "Fall With You." She also went full-on Jimmy Page and played guitar with a lit-up violin bow. The nod to the old school was not lost on me when she did this during their cover of Led Zeppelin's "Whole Lotta Love."
Maddie is a solid freaking drummer. I've heard her work on the recorded songs, and while she definitely has a serious set of skills, she got a few chances to really shine at this show. Her drum solo during the Led Zeppelin song was absolutely epic! She showed just how much of a powerhouse she truly is. She already had my respect but gained my admiration after this. She crushed this show.
There is a reason they call this band a power trio. They are excellent, both live and on record. They are tight-knit onstage, consummate professionals. They engaged with the crowd, interacted with each other, and owned that stage. Their next phase is a short tour with The Iron Maidens and Burning Witches. I've heard good things about those bands, especially that they really bring it live. They better hope so because Stormstress is going to own those stages.
They may not be able to take all their fans with them on this tour, but don't worry; they will be making new ones everywhere they play. You cannot watch these three on stage and not respect how hard they've worked to reach this point. Stormstress is a band to watch for. Millennials will likely say, "they slap hard." Old school metalheads like me just say, "they freaking rock!"
As I said before, when they hit the stage, you could just feel there was something magic in the air. There is a beauty to an album release party. The band is finally getting to show the world what they have put their hearts and souls into. There is something special about that moment, and Stormstress made the most of it. This disc deserves a "Whole Lotta Love."
Special mention!!
Many thanks to The Jungle in Somerville, MA, for putting this show on. Their staff was friendly, the sound was excellent, and the food and drink were flowing. Also, we have to thank Kristen Eck at Bumblebee Radio (https://www.bumblebeeradio.com/) for hosting the show. She introduced all the bands because she plays them on her station and knows them well. She, and the station, are a major supporters of local music. If you want to learn more about the local scene in and around Boston, check them out. You don't even need a radio because it is internet-based. All you need is your computer or phone, and you too can know what's hot right now!