Stormstress – Silver Lining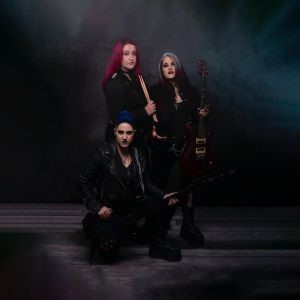 Stormstress is a power trio formed in 2019. They fuse classic rock with modern metal and throw in symphonic elements here and there just because they can. They write brilliant compositions that speak to the listener, allowing them to really connect with the music in a visceral, dramatic way. This band wears their hearts on their sleeves, speaking of past hurts and current healing. Those lyrical themes are over the top of brutal riffs, thundering bass, and pounding drums. They are the perfect storm.
Independently Released https://www.stormstressband.com

Band Members:
Tanya Venom – Guitars/Vocals
Tia Mayhem – Bass/Vocals
Maddie May Scott – Drums
String Quartet on Fall With You:
Jaquay Pearce – Violin
Hannah Schzde – Violin
Eden Rayz – Cello
Peter De Reyna – Double Bass
Silver Lining is the debut record for this band. Released on all streaming platforms and physically on April 22, 2022, this is a disc that puts the world on notice. These three seasoned musicians are here to rock your world! From start to finish, this album speaks volumes, both about what the band has been through and where they are heading. With deeply emotional lyrics and stirring melodies layered over killer rhythms, Stormstress has created an incredibly moving record.
Tracklist:

You Can't Hurt Me Now
Paint The Mask
Internal Divide
Fall With You
Gold
I Wish I Could
Corpses Don't Cry
Fall With You (Unveiled)
The disc opens with a furious riff over a bombastic rhythm. "You Can't Hurt Me Now" is an angst-filled song. It takes going through some kind of hell to make you move on and realize that asshole can no longer cause any more pain. They've done all they can, and now you've moved on without them. The delicate lead work of the guitar over the brutal riff in the bridge is stunning. The harmonized vocals give the lyrics more power and extra depth. This song is therapeutic and cathartic at the same time.
"Paint The Mask" is a social critique of how women are expected to conform to the world's idea of perfection and not complain. With lyrics like "Hey, pretty girl, how can you feel so scarred," they speak about how everyone expects beauty on the outside to suppress anything on the inside. This is a song that pisses me off simply because it has to be written. I view this the same as "big boys don't cry." False, people feel, and they should be able to express that however they want. Here, Stormstress speaks an obvious truth that so few people actually see. Gender norms suck.
The next track, "Internal Divide," begins with Tia playing a rock-solid bass intro. Those tones are fantastic. When the drums and guitar come in, they have to hit hard to avoid being overrun by that bass line. Maddie's drums on this one are sheer beauty. Her tempo allows for this almost sludgy riff to just smoothly pour out, laying a perfect foundation for the song. The backing vocals under the leads add to the feelings of paranoia and insanity hinted at in the lyrics. From the bass leads to the drums to the down-tuned riff, the whole song creates a mental picture of a struggle within the mind. The song sounds like it feels.
Now, it's time for something different. "Fall With You" is a song that feels like it will be a gentle ballad, maybe even a love song, when you first hear it. After the first verse, we get treated to a string quartet, keeping the feeling of potential happiness going. Tanya throws a lot of cry into her vocals at times, adding to the depth of the emotion you hear and feel in this one. The strings carry us into the bridge, which leads us to a guitar solo that amazes. Beginning slow, this solo builds a bit, then ends up going full-on shred before dropping back into the initial rhythm of the song.
I'm not sure what message they wanted to convey with this song, but what I hear is an unhealthy attraction to something that is not right for me, yet I cannot get away from it. I relate it to addiction and the self-destructiveness of trying to get away from something that I know will kill me slowly, but I just have not had enough pain to quit yet. I love that this song allows me to make it personal. This song is not just beautiful; it is powerful and emotional. It will touch something inside of you and leave you thinking. You will not be able to listen to this song and not feel it. I love/hate songs like this.
Over and over, we've been told that not everything that glitters is "Gold." Well, this song is. Starting with a Middle Eastern tone, the song kicks in and has a definite classic rock vibe. I hear the Led Zeppelin influence all over this one. Maddie is spectacular on this one. That double bass work and the variable phrasing on drums lift this song over some of the others for its' compositional strength. The growled vocals add another layer to the breadth of what this band can do. They truly are amazing. That riff, those bass fills, and the massive drumming on this song is pure ecstasy.
Melodic riffing comes next. "I Wish I Could" is a dark, haunting tune. Harmonized and counterpart vocals accent the torment felt on this one. There is a desire to be able to have feelings for this person, but that is not going to happen. The heart would be wrecked, the trust would be broken, and the love would be abused. There is a want, just not an ability. This is a song about the frustration at not being able to help someone you desperately want to care for. More gritty vocals really highlight that frustration. This is an excellent use of vocal techniques to drive a point home.
More pain is felt in the next song. "Corpses Don't Cry" is another heavy song with a killer tuning. I actually catch just a hint of Sevendust (fanboy squeal!!) in the intro. The riff is sludgy and dark and mirrors the lyrics beautifully. The bass and drums ooze the same feelings. There is a distinct texture to this song. "Hurt me again, go ahead and try, I can't be broken because I've already died" is the epitome of realizing there is nothing left in this relationship. Whoever did this to the writer should feel a tremendous amount of shame. They destroyed someone. The bridge is where you find out the level of destruction wrought, but the line of hope, though, is "I can finally breathe."
The record ends on a different version of a previous song. "Fall With You (Unveiled)" is a different take on the power ballad-styled symphonic song from earlier. Done here without electronic instruments, it has a very different feel. The vocal layering is more prominent, and the use of a string quartet makes the song feel more desolate and haunted. This take on the song is hauntingly beautiful. The tones are more ethereal and accent more of the darker side of the song.
There is a distinct theme to this record. You may beat someone down, but invariably, they will rise again, stronger than before. This is where you find the Silver Lining this record is all about. Out of pain comes beauty and resolve. Healing is accomplished after ache, not during times of serenity. Every negative experience life throws at you can be processed and overcome. Learn from those experiences and grow to become the badass you are meant to be. All the pain on this record leads to empowerment.
Each of the members of this band gets their chance to shine at different points on the record. Maddie is a beast on drums. Having seen her play live now, I can verify that what you hear here is just part of what she can do. When she goes beast mode, wonderful things happen. Tia is not just a bassist. She's a badass musician. She can get into the pocket of a riff and play a rhythm that supports the guitar beautifully, or she can step out front and play lead and make you feel that bass thumping in your chest. Tanya is an excellent guitarist. Her leads and fills are exquisite.
This is a band made up of three phenomenal musicians and genuinely nice people. Three years into this journey, they have released an album both written and played with a level of expertise thought to be reserved for 20-year veterans. There may be a Stormstress lurking on the horizon, but their future looks bright.
MZ Ratings:
Musicianship

Guitars – 10
Rhythms – 10
Vocals – 10

Songwriting – 10
Production – 10
Overall – 10