Susurro – Erratic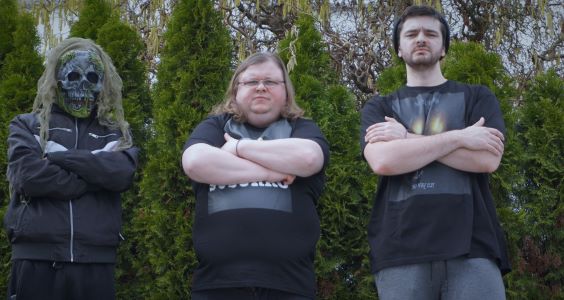 Susurro is a German band formed in 2019. Fusing Thrash and Death Metal with Electronic and Industrial Metals into a potent concoction of sounds, they have a very heavy tone that assaults your senses. This rich blend of genres and influences creates a lot of different emotions within the music, none of them happy. There is anger, violence, and hatred, everything you want and expect from your Thrash and Death Metal bands.
https://mr-reek.wixsite.com/susurro

Band Members:
Jack Skaner – Vocals/Guitars
Winzent-Walace – Guitars/Keys
Mr Six Ell – Bass
January 7, 2022
Tracklist:

Intro
Burning In Flame 2022
Erratic
Revenge Is Mine
Eye For Eye
Tambora
Leopard Doesn't Change Its Spots
No Way Out
Ghost Rider
"Intro" has an eerie, electronic feel at the start that morphs into a more classically haunted theme with the keys before the halfway point. From there, it keeps shifting, growing tenser, then shifting to a weird, funky feel. It may be called "Intro," but it does not act like one for the next song, "Building In Flames 2022." There are minor similarities, but the theme is different. The vocals come in harsh, repeating the title, then dropping into an electronica/industrial style subdued tone. From there, the guitars crash in, and the song goes heavier. The drums are fast, using a killer double kick phrasing, and the bass guitar hammers along, matching the riff.
The title track, "Erratic," is a bit doomy, starting with a sludgy riff before stepping into more of a Heavy Metal tonality. The riff has a great pattern, and the phrasing shifts around the pre-chorus are well-executed. The rhythm has a cool tuning and changes enough to keep the listener on their toes. Then, "Revenge Is Mine" opens with a weird electronic tone before going to a heavy riff and brutal rhythm. The varying patterns in drum/bass phrasing are not Progressive Metal, but they are more than just typical alternating phrases.
Next, "Eye For An Eye" opens with heavy keyboard tones that are then shoved aside by a pretty cool guitar riff. The rhythm is pretty Slipknot-Esque, bordering on a Nu-Metal sound, but it eventually shifts back to a more industrial/thrash feel. "Tambora" has a militaristic feel to the drums for the opening, but the keys are almost alien, extra-terrestrial. It's an excellent setup for something to erupt in an alien horror film. It feels like they are setting up a battle between human and ET militaries. Maybe that's just my vivid imagination, but it sounds cool.
"Leopard Doesn't Change Its' Spots" and "No Way Out" are both really heavy songs. It sounds like the tunings are a bit darker and deeper, but that is not necessarily so. The surrounding tones could just make it appear down-tuned, and my ears could be better at picking out actual string tension adjustments. Either way, they both have a definite heaviness that I really like.
Wrapping the disc is "Ghost Rider," a heavy song again with a bit of a Nu-Metal theme fused with Industrial/Techno vibes. The guitar work is a bit atonal, a little reminiscent of Mudvayne on some of their more offbeat work. It's a fantastic sound that lends itself to listening more than once to catch all the differences.
Susurro is a weird, almost experimental band, which is not unique to Metal but tends to have a broader range of tones and textures to mess with. They've found a few interesting blends, most of which work well. They are not anything standard, and I doubt they want to be, which is ideally in line with the Heavy Metal credo of blazing your own path and doing what you think/feel is right for you. There is organized chaos to this that is oddly pleasing. I hope they don't change anytime soon.
MZ Ratings:
Musicianship

Guitars – 8
Rhythms – 8
Vocals – 8

Songwriting – 8
Production – 8
Overall – 8.00