Symphony X – 25th Anniversary Tour at The Palladium, Worcester, MA, May 12, 2022
Trope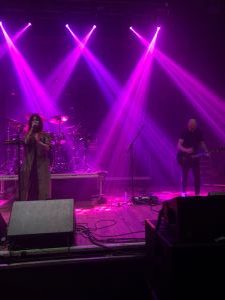 Band Members

Diana Studenberg – Vocals
Moonhead – Guitars
Set List

Lambs
Plateau
Privateer
Surrogate
Planes
Breach
Pareidolia
Trope was a bit of a mystery. There were only two people on stage, the singer and the guitarist. There was a full sound thanks to backing tracks, which gave you a good sense of their overall sound but left me confused about where to look. It sounded like there should have been four or five musicians on stage, so I kept wondering what was happening. I'm sure there is a perfectly logical explanation for why there were just the two up there. I could even ask the band, thanks to social media, but I think I will leave that unanswered and cherish the mystery.
They did not play very long but had a good time while on stage. The guitarist was a bit bashful, not interacting much with the crowd; instead, he remained laser-focused on his playing, which was quite excellent. He did not spend any real-time shredding, but his riff work was excellent. As an alternative rock band, they seemed to be pretty heavy. I'm not sure if that was to fit more into what the crowd at a power metal show would want to hear or if they really do lean into the heavy end of alternative.
Either way, they played a good show. Diana was a bit of a dancer, moving around the stage, getting into the groove. She was obviously having fun and enjoying life. It was an odd but good show. Maybe I'll get to see the whole band play live one day…
Haken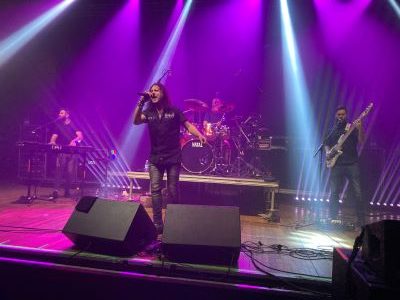 Band Members

Ross Jennings – Vocals
Richard Henshall – Guitars/Keys/Backing Vocals
Charles Griffiths – Guitars//Backing Vocals
Peter Jones – Keyboards
Conner Green – Bass/Backing Vocals
Raymond Hearne – Drum/Backing Vocals
Band Name
https://hakenmusic.com
Facebook
Instagram
Set List

Prosthetic
Invasion
Nightingale
Cockroach King
1985 (With "Owner of a Lonely Heart" callout)
Carousel
Haken is an English progressive metal band with a fairly rabid fanbase. There were a lot of Haken fans in attendance at this show, as I'm sure there have been at every show on the tour. Unfortunately, there were some technical issues with the sound on this night. For over half the show, the guitars were absolutely buried under the bass, and even the drums had trouble being heard. The first few songs were very out of balance. Ever the professionals, they powered through those issues and continued to play.
By the time they reached the midway point, most difficulties were ironed out. When they hit 1985, which included a section of the Yes classic, "Owner Of A Lonely Heart," they were in full swing, and the crowd was able to enjoy the show as it was meant to be. Please do not think I am slamming this band for having technical issues. I'm always impressed with how a band can have a show that does not meet their expectations for sound or light and still give it everything they have. Haken did what professionals do on an off night, make the best of it and give the fans everything they can.
Haken is a progressive metal band. They play a style of music that needs excellent sound production. A sour mix can be fatal in this setting. Kudos to them for not losing their collective minds and giving up. I've seen bands walk off stage or throw their instruments in frustration at subpar sounding venues. Haken kept their cool and left the fans with a feeling of satisfaction. As irritating as it is for the fans when this happens, I left with even more respect for the band for not losing their shit and acting out how they must have felt.
Symphony X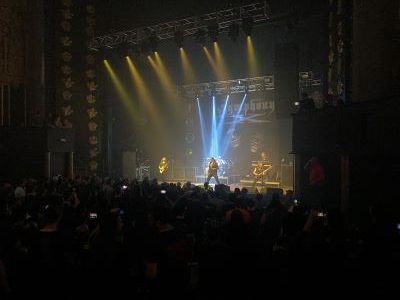 Band Members

Michael Romeo – Guitars/Backing Vocals
Michael Pinnella − Keyboards/Backing Vocals
Jason Rullo – Drums
Russell Allen – Lead Vocals
Michael Lepond − Bass/Backing Vocals
Set List

Nevermore
Evolution (The Grand Design)
Serpent's Kiss
Sea of Lies
Without You
When All is Lost
Kiss of Fire
Run With the Devil
Set the World on Fire (The Lie of Lies)
The Odyssey
Headlining this night was none other than Symphony X. Fortunately, the technical issues seemed to be fixed by the time they hit the stage. Their sound was loud, epic, and bombastic! The guitars were crisp and clear, the keyboards sounded excellent, and the balance was right where it needed to be. I had moved farther back by this time and had a great line of sight for the band and was in a killer spot for the sound. I heard each individual instrument and the vocals with good clarity. It sounded excellent!
Right from the beginning, Michael and Michael were on fire. The guitar and keyboard harmonies were fantastic. The rhythm section of Jason and Michael (I know, three Michaels, right?) was on top of their game. And when you have a vocalist like Russell Allen, you just expect greatness. No one was disappointed. Russell has fronted this band forever and worked with some of the best in the business on side projects. Jorn Lande and Anette Olzon just to name two.
Symphony X is a massive force in power metal, having performed worldwide for 25 years now. They know how to put on a show. Russell interacts with the crowd, and the band plays killer music. You show that off when you have a powerful enough vocalist to do what Russell does. When the band is this talented, you take the immense sound they create, wrap it around those phenomenal vocals, and show the world you are one of the best. That is what a Symphony X show is.
Nine songs that blow your mind are just the prelude to the encore, 25 minutes of "The Odyssey" to close out the show on a power metal classic that highlights their ability to go full-on progressive metal with ease. Everything this band does sounds epic, so imagine how epic this closer has to be top what has already transpired. The way Symphony X closes a show is a thing of legend. The fact that they do this over and over again is a testament to their staying power and willingness to provide the fans with exactly what they want.
All the bands did an excellent job during this show; whether that was working shorthanded, powering through technical difficulties, or just owning the stage, they all made an effort to ensure the fans walked away as happy as possible. That is the mark of a great show.