TDW – Fountains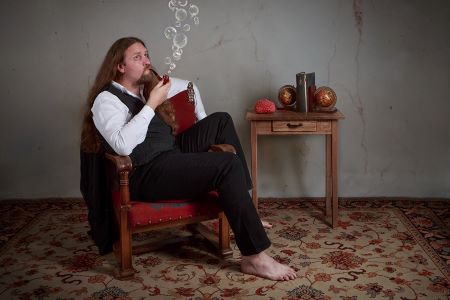 TDW is the brainchild of Tom de Wit. It is unequal parts of many things. You will experience prog rock and metal, symphonic metal, avant-garde rock, and many other facets of music in the rock and metal realm. You will not hear anything standard or cliched. This is bigger than most of what is on the shelves, which is a refreshing change. Sometimes, music gets a little repetitive, and you end up hearing a lot of similar bands. Rest assured, this is not going to happen with TDW.
Layered Reality Productions https://www.tdwmusic.com/home/

Band Members:
Tom de Wit – Vocals/Guitars/Synths/Orchestrations
Rich Gray – Bass/Backing vocals (Annihilator/Aeon Zen)
Fabio Alessandrini – Drums (Annihilator)
Guest Musicians:
Bryan Ramage – Guitar solo on #1 (Ramage Inc)
Linn Liv – Guest vocals on #1 (Cyanide Paradise, Pictura Poesis)
Eric Hazebroek – Guitar solo on #2 (Vetrar Draugurinn)
Ron Brouwer – Guest vocals on #2 (Sacrosanct)
Cathinca Porsius – Flute on #5
Lennert Kemper – Guitar solo on #5 (Dreamwalkers Inc, Elithium)
Lola Damblant Soler – Guitar solo on #6 (Soledad)
Vikram Shankar – Synth solo on #7 (Redemption, Silent Skies)
Michael Mills – Guitar solo on #8 (Toehider, Ayreon)
Morean – Guitar solo, flamenco guitar & palmas on #9 (Alkaloid)
Lucas De La Rosa – Guitar solo on #10 (Solo artist)
Choir members:
Laura ten Hoedt, Iris van 't Veer, Cailyn Erlandsson, Rania Bailey,Rikke Linssen, Linda van Vugt, Ron Brouwer, Rich Gray, Tom de Wit

This, the seventh TDW record, was released on November 26. 2021 via Layered Reality Productions. Some of the songs are actually fan-requested and inspired. Yes, this is a bit of an interactive record. Fans of the band provided suggestions after their last offering, The Day The Clock Stopped, and those ideas were incorporated here. How cool is it to be a long-time fan of this band and know that you had input on one of their songs? That must be a pretty cool feeling.
Tracklist:

Fountains
Inner Enemy
Hope Song I
Gratitude Song
Hunter's Eyes
Anthracite
Another Choice, Another Universe
Graveyard Boogie
Traveller
Hope Song II
The disc opens with the title track, "Fountains." After a quick keyboard opening, the song's main body kicks in. The lead guitar work is quite melodic, and the bass/guitar riff underneath is sludgy and appetizing. The drums vary from blast beats to gentle rhythms. The keyboards flex in and out, giving the song some additional elements that heighten the tension. The low-end guitar riff with the higher register keys creates interestingly divergent tones for the song. Add the shift from clean to harsh vocals and the massive choir chants, and you have a piece with a lot of beautiful chaos. This is prog metal done right.
"Inner Enemy" starts like it's going to be a techno piece, goes a bit industrial, then shifts to almost nu/modern metal. All of this is done with a progressive flair. The vocals stay cleaner on this one for the most part while keeping up the choir trend that will be used throughout the disc. While there is less growling, some grit is thrown in at critical junctions. The guitars remain heavy, and the keys play foil to that, getting relatively light and airy at times. There is a lot of fill and frill on this track, making it complex and a lot of fun to listen to because you can easily catch different things on each listen.
For a bit of lighter metal, we check out "Gratitude Song." The guitars are still heavy but not as dark. The vocals are primarily in the higher end of Tom's pitch pocket, and the choirs fill a lot of space. The backing vocals add breadth to the sound, widening with excellent harmonies. The guitars do get chunky but still, just feel less doom-laden. The strings and wind instruments edge towards symphonic metal tones.
The next two songs each have their own wild pieces. "Hunter's Eyes" opens with wind instruments and brings in keys and guitars before the riff crashes around you. The wind instrument keeps popping up, sometimes matching the riff pattern, giving the song a bigger than usual classical feel. "Anthracite" has a seriously killer slow build through half of the song before the guitars are heard. Slower and almost sludgy at times, this song ebbs and flows like a riptide on a speedball. It's a bit chaotic in all the best ways!
One of the wildest songs I've heard in the past few years, including reviews of over 250 different records, is "Graveyard Boogie." There are swing and prog and jazzy phrases mixed throughout. The eerie female vocals and haunted vocalizations scattered all over the track that weaves through the heavy calliope music work in ways that defy description. This is a fun song that might get added to a Halloween playlist if I decide to make one to play for the fortunate kids that cross my doorstep in late October (we give out handfuls of candy!).
"Another Choice, Another Universe" opens with a 70s prog-rock feel, though with a modern interpretation. It has a modern retro feel that I really like, almost as of Yes were a new band and not one of the genre's pioneers. Then, "Traveller" defies that sound and goes modern with some more industrial/nu-metal style guitar work. The techno beat underneath helps keep the genre-bending going, creating an even more progressive tone with the mixing of styles while varying the tempos and tones.
Going back, "Hope Song I" is an ethereal track. It is slow and delicate; it never goes heavy, making it an outlier on this disc. It slowly ebbs and flows, adding in the bass, then taking it back out, using lots of harmonized vocals to create a comforting layer of soothing melodies. "Hope Song II" does not give this same feeling of ambient hope. It has a more aggressive melody but still comforts the listener somehow. The guitars are heavy, and the rhythm is a bit frenetic, but the strings and vocals raise the overall tone to one of hope.
TDW uses tones and tempos as tools. They are master craftsmen, constructing big, bombastic, ethereal, and delicate songs. Each piece is customized to give the customer something new and innovative. There is nothing "cookie-cutter" here; each piece is lovingly created to provide maximum pleasure to those who experience its' beauty. There are not many composers brave enough to try all of these various techniques. I'm more than just impressed; I'm amazed, astounded, and incredibly pleased to have come across something this ambitious. This is the type of album that really makes you anxious to hear what comes next.
MZ Ratings:
Musicianship

Guitars – 10
Rhythms – 10
Vocals – 10

Songwriting – 10
Production – 10
Overall – 10