Telomyras – Telomyras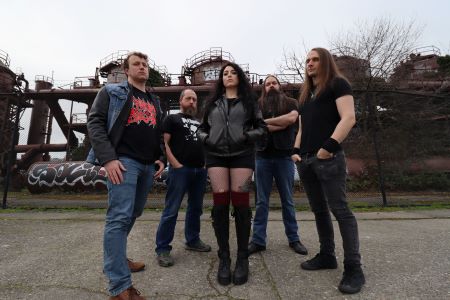 Telomyras is a five-piece Heavy Metal band from Seattle, WA, formed in 2021. Their eponymous debut EP was self-released earlier this year. With five tracks running a bit over 26 minutes, it's a quick listen, but one that will make you want to go back through again, then again. They have good technique and sound, blending more than just one style and giving it enough power to let the listener know they have been sonically assaulted. Clean vocals with some lead and backing growls over a twin guitar attack, and a killer rhythm section will leave you a bit breathless, mostly from headbanging and jumping around.
https://telomyras.bandcamp.com/

Band Members:
Sammie Gorham – Vocals
Ephraim Grimm – Guitars
Jack Schonher – Guitars
Eric Thomas – Bass
Travis Busby – Drums
February 18, 2023
Tracklist:

Cambion
Colorless
First Blood
Hydra
Throne Of Ruin
Right off the bat, you hear a bit of Seattle influence on the opening track, "Cambion." Maybe I'm imagining this, but I hear some old-school Queensrÿche and Metal Church in the heaviness of the guitar riff, so I immediately like this! Ephraim and Jack have a chemistry that works well and fits in beautifully with Eric and Travis. Sammie is equal to the task of belting out lyrics over the power of the rhythm and the riff. I enjoy the chugging rhythm guitar working with the bass to build a wall of sound.
"Colorless" shows Sammie's power on the opening note. She has a killer way of climbing a note or using a waver that is more than just a quick vibrato. She has excellent lows and a damn good belt in her repertoire, giving her a lot of room to add vocal color to this "Colorless" song (I have grandkids, I'm allowed Dad Jokes). Eric's bass is incredible on this track. The rapid-fire work in concert with the riff adds a lot of strength to the riff, giving them yet another weapon in the guitar onslaught.
Slowing things down, "First Blood" has an almost Doom-sounding intro. Sammie goes nice and low in her range to match the tone, then fades out as the main riff kicks in. That is a well-executed shift, and everything comes in on time and on point. Travis does not play the part of the classic rhythm keeper, instead using more complex patterns with his cymbals and bass drums, creating a more extensive foundation for the whole song than many drummers do. We also hear Sammie go into a nice growl tone, showing her expanded skill set with the voice. The guitar solos are nicely placed in the song, with a great tempo and tonality.
"Hydra" has a bit of an NWOBHM feel to the riff. That intro could be Saxon in the early 1980s. There is a lot of classic metal in these compositions, weaving in various influences to create a new blend, defying any pure categorization, which is one of the things that is so beautiful about Heavy Metal in this era. The section after the solos where they slow the tempo using the exact phrase is fantastic. The drop in tempo is solid across all the instruments, with the drums really nailing the speed reduction.
Wrapping up this 26-minute debut is "Throne Of Ruin," a more Power Metal styled song with an epic rhythm and lyrics that evoke a trek through the wilderness of life. I get some Helloween/Blind Guardian vibes from this track, giving me just a little bit more to love. The galloping rhythm and chugging guitars drive this song through their paces, leaving you breathless at the end because you've been moving through the entire track.
Telomyras is not a one-trick pony band. They have a diverse set of sounds, influences, and skill sets that take the listener on a journey through four decades of Heavy Metal. As someone who loves everything from Classic Rock to Technical Death Metal, I greatly appreciate any band with multiple genres and styles to bear in their sound, which Telomyras has done beautifully.
MZ Ratings:
Musicianship

Guitars – 9
Rhythms – 9
Vocals – 9

Songwriting – 9
Production – 9
Overall – 9.00