Styx/REO Speedwagon/Loverboy – The Unzoomed Tour at Xfinity Center, Mansfield, MA August 19, 2022
Loverboy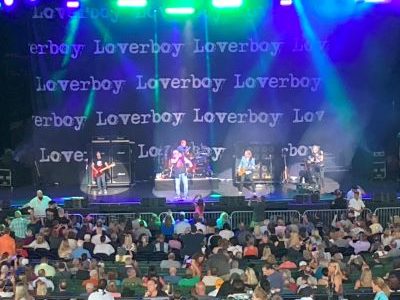 Band Members

Mike Reno – Lead Vocals
Paul Dean – Guitars/Backing Vocals
Doug Johnson – Keyboards/Piano/Backing Vocals/Sax/Harmonica
Ken "Spider" Sinnaeve – Bass/Backing Vocals
Matt Frenette – Drums
Set List

Notorious
Lucky Ones
Queen Of The Broken Hearts
The Kid Is Hot Tonight
Loving Every Minute Of It
Hot Girls In Love
Turn Me Loose
Working For The Weekend
Loverboy hit the stage on a hot August night in Massachusetts after two years of waiting for this tour to happen. They came out swinging and never let up, playing eight songs in about 45 minutes. The setlist was pretty good, though I would have liked to hear "When It's Over" and "Take Me To The Top." Man, the memories of jamming out to these songs, playing air guitar, lip-syncing (sometimes even trying to sing) were pretty powerful. Mike Reno doesn't do all the wailing of yesteryear, leaving many of the higher notes out of the tunes, but he still has all the power he needs to belt out those hits like always.
The band was really on point. They were well rehearsed and in step with each other. They had fun, worked the crowd, and even had some fun letting the audience both sing along with them and take on the vocal duties entirely. The crowd knew the words. They sang along the whole time and many danced like no one was watching. As the sun set over the back fence of the open-air amphitheater, the temps kept getting hotter as everyone stayed in motion, grooving to their memories like me. New and old fans alike had a great time and put their cares aside for that hour.
REO Speedwagon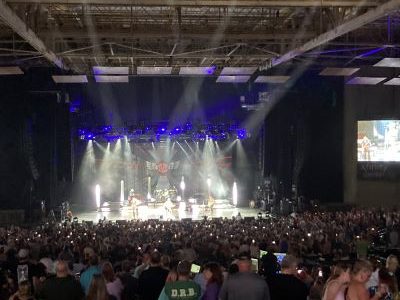 Band Members

Kevin Cronin – Lead Vocals/Rhythm Guitars/Keyboards
Dave Amato – Lead Guitars/Backing Vocals
Neal Doughty – Keyboards
Bruce Hall – Bass/Backing Vocals
Bryan Hitt – Drums
REO Speedwagon
http://reospeedwagon.com/
Facebook
Instagram
Set List

Don't Let Him Go
Take It On The Run
Keep Pushin'
Living Every Moment
That Ain't Love
Tough Guys
Can't Fight this feeling
Like You Do
Time For Me To Fly
Back On The Road
Riding The Storm Out
Keep On Loving You
Roll With The Changes
This was a show that took me back to my youth. The only other time I've seen REO Speedwagon was in September of 1982. Survivor opened the show and I fell in love with live music. Almost 40 years later, they still put on a great show. I forgot how many of their songs I know, most of which I still remember most of the lyrics. Kevin Cronin hasn't lost a step, and the band around him is still perfectly in tune and really put on a killer show. I was really a bit surprised at just how good they still sound. They've maintained their professionalism and love of performing, which showed in just how much they rocked that stage.
They took the time to address the crowd, rock out with them, encourage them to get up and dance, and even paused the music to let the audience take over the vocal chants. Even the security personnel were dancing and getting the crowd on their feet. Everyone was having a great time. Probably the only thing I would have changed is putting "Riding the Storm Out" last, but that's just my preference, not how the rest of the fans want the show to end. The fact that I can still identify my favorite REO Speedwagon song all these years later is just a testament to how much staying power that band has.
After more than 50 years of touring and creating music, they still sound as fresh and vital as they did when I saw them as a 12-year-old going to my first ever live show. Some bands on tour today have lost a step (or more), but these guys are as dymanic live now as they've ever been.
Styx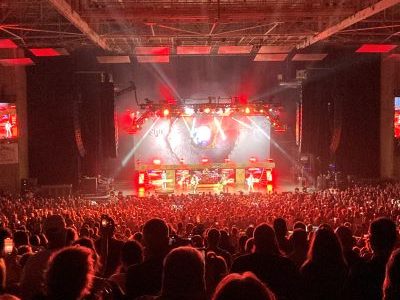 Band Members

Tommy Shaw – Guitars/Lead and Backing Vocals
James "J.Y." Young – Guitars/Lead and Backing Vocals
Will Evankovich – Guitars/Backing Vocals
Lawrence Gowan – Keyboards/Lead and Backing Vocals
Ricky Phillips – Bass/Backing Vocals
Chuck Panozzo – Bass/Backing Vocals
Todd Sucherman – Drums
Set List

The Fight Of Our Lives
Blue Collar Man (Long Nights)
The Grand Illusion
Lady
Crash Of The Crown
Light Up
Sound the Alarm
Rockin' The Paradise
Foolin' Yourself (Angry Young Man)
Too Much Time On My Hands
Khedive
Lost At Sea
Come Sail Away
Mr. Roboto
Renegade
Styx has been a band for 50 years, though their origins date back even farther. On this night, they were celebrating getting back on the road with fans and friends alike. Playing hits from yesteryear and new songs from the last two albums, they put on one hell of a show. Everyone seemed to step up to a microphone. I think they may have even brought out a few members of the road crew just to make sure the voices carried well enough. The stage show was quite excellent with plenty of killer lighting and lots of movement around the stage.
Tommy and Lawrence handled most of the lead vocal duties, all of which were just as good now as they've ever been. They took turns introducing the songs and the band members. Even Chuck Panozzo came out for two different songs to play bass and just jam with the band he helped found. Lawrence took the time to give us a keyboard piece, "Khedive," that is really just him showing off his neo-classical chops. The track is most excellent and deserves the attention they placed on it by having him out there on his own. It is really a spectacular arrangement.
Again, the crowd was heavily involved, singing along at the times when requested, even when they were completely covered by the band, but sing they did! Many stood the whole, dancing in the aisles and the pit. Styx started with a hit, played hits all the way through, and ended on a couple of hits for the encore. It was a great show, from the opening act to the headliner. The crowd was everywhere from 8-80 in age and they all had the same amount of fun. Whether they were there for one band or all of them, good times were had by all!