Virginia's Most Wanted – The Backyard, Partlow, VA – June 10, 2023
Half Past Dead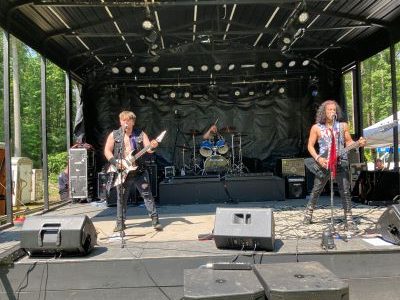 Set List

The Evil That You Make
Unbreakable
Show Me The Way
Ready For The Ride
I Still Believe In Rock n Roll
Over
Half Past Dead
Hard Rock and Heavy Metal were mixed in a wild ride of a show. Last-minute fill-ins Half Past Dead almost didn't get this done either. Talking to the trio between sets, I found out they are actually a four-piece that had issues getting members to commit on such short notice. It is understandably rough when you have a job and family and commitments. Instead of letting that throw them off, the guitarist learned to play bass, the drummer learned the set on short notice, and somehow, they went on stage and ripped off seven killer songs.
It didn't sound like they were all discombobulated, so kudos to them for pulling off a cool show despite having some pretty tough issues to deal with. Three o'clock on a Saturday afternoon in the middle of Virginia, they rocked the place, getting everyone there ready for the rest of the day. Much respect for everything they did!
The Plan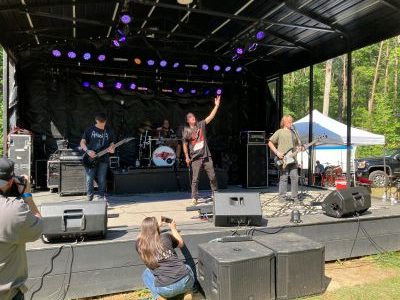 Set List

Priest Is A Wolf
Blood Trails
Ephialties
34
Nod To The Gods
Perfidy
Entombment
I'm pretty sure I've got the setlist messed up. I'm cheating and using the setlist from the stage, but it feels off. The covered Job For A Cowboy (maybe "Entombment OF A Machine"), followed by the Damage Plan classic "Breathing New Life," which they may list as Nod To The Gods (it is by the Abbott brothers, after all). Then they covered Suicide Silence, though I'm unsure which song (sorry, that's beyond my knowledge).
Either way, the band's oldest member is 26, and the youngest is 13. These guys came out and shredded their set, giving a show that only the young can, full of energy and brutal as hell despite the direct sunlight trying to beat everyone down. They got the crowd going despite most of them not being as into the screaming, harsh vocals. Everyone there got a taste of why we can rest assured that the future of Metal is safe with today's youth. They freaking rocked and impressed everyone who was there, including all of the other bands.
Merciful Zero
Set List

Intro
Take A Minute
The Fool
Doap
Enough
Good Kredit
A Show
Falling Apart
Harley Davidson
The Night I Died
Energy
Merciful Zero is not what you expect when you meet them. Hans is not a villain in Die Hard (R.I.P. Alan Rickman); she's an outspoken advocate for the band. I had the chance to chat with her and the manager, who was exceptionally friendly and pumped for the show. Once they took the stage, things got fun! Mark is a solid Hard Rock drummer, and B.K. is a lively bass player, not settling for the background, which is good. Cheez is a guitarist with distinct Progressive Rock influences, and he spent a lot of time noodling away to create intricate sounds, allowing the bass to become the riff master.
Together, they ranged through various genres, sticking with their heavier stuff to fit better into the general vibe of the rest of the bands. They were fun to watch and played several original songs, giving you a taste of what they love. They're young as a band but already know what they want to sound like. I gotta say, this show was as hot as the afternoon sun in Virginia!
Kavlick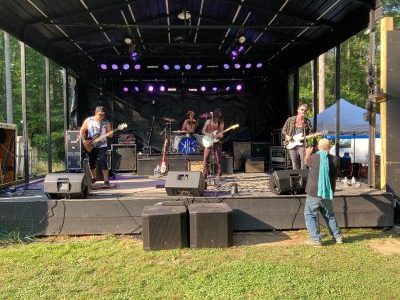 Set List

Is there Anybody Out There (Pink Floyd)
Song B
Sap Fawn
Over My Head
Eye Level
Shock Collar
Breathe
Dingo
Wormcloud/Landlord
How can you not love a band that opens with a Pink Floyd song? Kavlick is named for their founder, Luna, and they are a wonderful blend of Hard Rock and Alternative, adding in bits of Doom, mixing funky 90s-influenced tempos and tones with harder, gritty textures of newer music. They also dug back into 80s styles and brought that forward to the present. Luna and Adam share vocal and guitar duties; Carlos handles the low end with some quick finger work, keeping the pace lively and upbeat, while Sam sits on a throne with few drums but many killer rhythms.
They showed themselves to be adept musicians, easily covering many different genres and styles. Having listened to the two vocalists, Luna is lower-end alto, and Adam is a higher-end tenor, so I would love to hear them harmonize, which they apparently will be doing of that in their upcoming releases. They want to get two EPs and a full-length out before the end of the year. That is very ambitious, and I hope they make it! I look forward to hearing what they sound like on record.
Four Thirty Four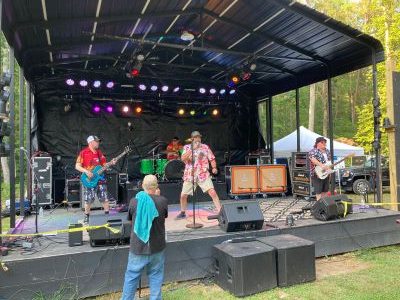 Set List

Glass Ceiling
Eat The Sun
High Roller
Whiskey Fist
She Knows Hotta Die
Thirty Minute
Dope Bag
Energetic Opposition
Red Eye
Tenfo
If the Beach Boys, Cheech and Chong, and 80s Hard Rock attitude all got together and made their own weird love child, it would be Four Thirty Four. They wore Hawaiian shirts, sang about drinking and Four Twenty, and just generally defied authority. They're a bunch of lovely, mellow dudes off-stage, but they take their rock and roll very seriously. Their friends came out to support them, rocking the afternoon towards evening and keeping the party alive.
There were flashes of Punk and even Hardcore mixed into their Hard Rock base, keeping the music fresh and alive while giving the crowd something to groove to. Scott is about halfway between Angus Young and Scott Ian, wandering the stage, continually moving. Mike was on the edge of the stage more than once, getting right up there and engaging the crowd with both banter and lyrics. These guys know how to rock and love to show out while having a blast.
Distant Memory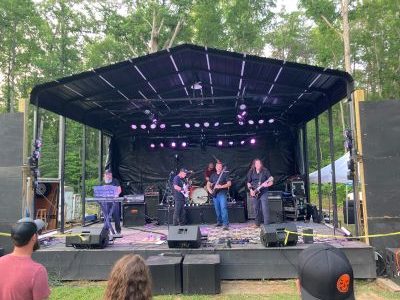 Set List

Shane Moore – Vocals/Guitars
Seth Appell – Guitars
Will Perkey – Keys
Paul Appell – Bass
Kenny Gordon – Drums
Distant Memory has yet another blend of influences that is sure to have something that will catch your ear. They did some covers and some original songs, showing a range of styles. They quickly ranged through Thrash and Melodic Metal and then brought in bits and pieces of Nu, Progressive, and Classic Metal. The two guitars had extra support from drums, bass, and keyboards, giving this band a bigger, more rounded sound. After lots of guitar, rock, and metal, it was nice to hear some keyboards infused into the music.
These guys were active on stage, moving around, and even suffering a technical issue during "Symphony Of Destruction," which was quickly handled by one of the members of a different band. Half Past Dead began their Grateful Dead-inspired walk around the crowd for this band and kept that going through the next two. The temperatures started dropping a little, and the crowd became more active. Distant Memory had a lot of fun on stage, and the party reflected this by not stopping. By now, there have been over five hours of music, so keeping the crowd engaged is a pretty impressive achievement!
Saint Diablo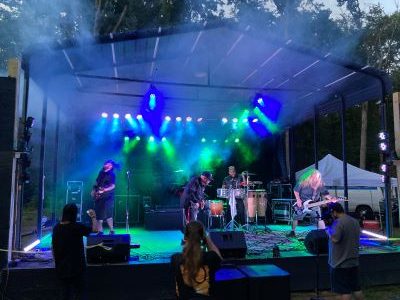 Set List

Smiley Face
Bathroom Floor
Dark Horse
ODIO
Devil Horns And Halos
Watch Me Kill
Meet My Maker
Survive This
A. A.
750
Saint Diablo is one of those bands you have to see to believe. When someone tells you they got energy for days and an attitude that doesn't quit, you might think they're exaggerating, but they most definitely are not. Tito spent a lot of time hyping Puerto Rico and the crowd, even laughing that someone racist was probably getting pissed off. Let them get pissed. Metal is for EVERYONE! Fuck the haters. These guys are Hardcore, Thrash, and Punk spiced with some Hip Hop/Rap and Nu Metal.
Dustin stomped that stage into submission, Ant killed a few drum heads, and Awesome Ray Ray added extra sound to the show with his percussion. Jessie was pretty locked in place physically, but that bass went far and wide. He definitely knew how to keep everything moving at just the right pace. They've been around for at least a decade that I can see (maybe longer), and you can tell they know how to own a stage. They threw a party up there during "750" when a gazillion people went on stage and had a thrashing good time. This was the right band to set the mood for the headliner!
Overdriven
Set List

River
Bleeding Bastard
Sky Is Falling
Hamper
Save Me From Myself
Riot (Three Days Grace)
Thrash Monkey
Wall Of Machine
Whiskey
15-80
Taken
Rock n Roll
Voodoo Child (Jimi Hendrix)
This whole thing was planned and organized by Overdriven. The land is owned by someone connected to the band (maybe even in the band). The video and audio equipment is all part of Overdriven Productions. Hi-tech stuff made this a day worth showing up for. The whole thing was live-streamed with multiple cameras and a really good sound setup. This was not their first time doing this, and I certainly hope it's not their last.
As for the music… they owned that stage (literally and figuratively). They blend Hard Rock with Doom, Heavy, and Classic Metal. It was impossible not to scream along when they did the Three Days Grace cover of "Riot." If you existed in the mid-2000s, you knew this song. The set was primarily originals, which is always cool to see, but they did have two killer covers, the aforementioned "Riot" and Jimi Hendrix's "Voodoo Child." Damn, they did that song proud!
Overdriven are seasoned, well-practiced musicians who know how to take the show to the next level. They recruited seven bands with different styles so there would be something for everyone. Three kegs, a towed smoker full of meat, and pizzas, when the barbecue ran out, kept the people stuffed and hydrated; well, most people brought water to rehydrate after a few beers. Either way, everyone seemed to have fun; most people stayed for the whole show, and all the bands stuck around to support each other.
This show brought out the best in the bands and the fans alike. Almost nine hours of sun, suds, and music made this a day to remember. They do this twice a year, and I'm already for the next one!