WASP/Armored Saint – WASP 40th Anniversary Tour at Big Night Live, Boston, CT, November 16, 2022
Armored Saint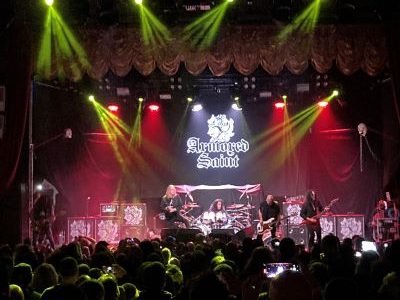 Band Members

Jason McMasters – Vocals
Phil Sandoval – Guitars
Jeff Duncan – Guitars
Joey Vera – Bass
Gonzo Sandoval – Drums
Set List

Reign Of Fire
Delirious Nomad
Long Before I Die
Symbol Of Salvation
Chemical Euphoria
Win Hands Down
Can U Deliver
March Of The Saint
Madhouse
John Bush was sick and could not perform in this show. Luckily, Jason McMasters of Dangerous Toys was able to fill in, much as he recently did for Accept. Was it the same? No. Was it still kick ass? Hell yeah! I am not a metal purist who demands original members and pure shows with no backing tracks. I don't care who is onstage or if tracks are used. I just wanted a good performance, and Armored Saint gave that.
The crowd was ready, the band was hyped, and the show was intense. It was far from perfect. Jason introduced the wrong song one time. Instead of getting worked up, they played "Symbol Of Salvation" before "Chemical Euphoria" rather than the other way around. It made no difference to the show, though it might have thrown off the light guy for a few seconds. Ultimately, we heard both songs, and I screamed as many words as I could remember to both of them.
The sound was killer, and the crowd was pumped up, so everyone had a good time. I had a couple of friends in the audience (Anthony DeCrisantis of Metal Icarus Images Photography and James Delbridge of Lycanthro) who caught Joey Vera after the show and got pics with him. I'm a bit jealous, but I'll get over it. Armored Saint is one of the better live bands. They get on that stage and give it their all every time. I've seen them a few times before, and they always crush it. Hell, the last time I saw them at Brighton Music Hall, John Bush performed the last part of the show with his pants split wide open. That didn't stop the show; it just made it one to be remembered!
I'd love to see these guys do a headline set for their latest album, which has yet to happen due to the pandemic. Maybe, with a complete set, they could do "Unfair" and "Isolation," two of my personal favorites. I'd be happy to see them again, no matter what their setlist looks like, because I know I will leave with a sore neck, a raspy voice, and more great memories.
WASP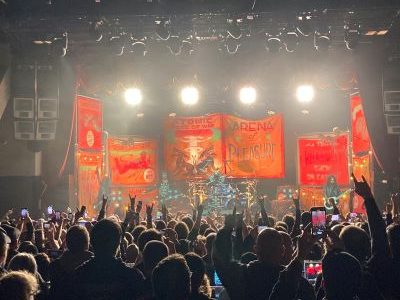 Band Members

Blackie Lawless – Vocals/Guitars
Doug Blair – Guitars/Backing Vocals
Mike Duda – Bass/Backing Vocals
Aquiles Priester – Drums
Set List

On Your Knees/The Flame/The Torture Never Stops/Inside the Electric Circus
L.O.V.E. Machine
Wild Child
The Idol
The Great Misconceptions of Me
Chainsaw Charlie (Murders in the New Morgue)
Blind in Texas
Animal (Fuck Like a Beast)
The Real Me (The Who cover)
I Wanna Be Somebody
I cheated and checked out the setlist before the show. I thought I would be a bit disappointed because WASP was not doing all the songs I wanted to hear. I'm happy to report once they fired up and sounded absolutely fantastic live, I forgot about my petty little wants and decided to just enjoy the show. It is the first time WASP has toured the US in over a decade because promoters didn't think they could sell tickets. They were WRONG!!!
These guys shredded the night from the opening medley to the last song. Doug and Mike sang, sometimes backing vocals; other times, they had the lead. Blackie is still a showman, swinging around, hanging from his custom mic stand, sounding like the Blackie Lawless of old. As a band, they are incredibly tight in their musicianship. The songs were played at full tilt and really sounded excellent. The sound was clear and vibrant, never getting muddled due to excess volume, throwing it out of balance.
The three songs they did from The Crimson Idol absolutely ROCKED! I'd love to see that album performed front to back. I'd love to see two tours from WASP in the next few years; one of The Crimson Idol straight through, and the other for just the first four albums, possibly as a "Night with WASP" and no opening act, getting into the deep cuts from those records, not just the hits. I'm talking about "Cries In The Night," "Running Wild In The Streets," "Sweet Cheetah," and "The Neutron Bomber."
Again, the crowd was really into this show. You could tell people have been waiting for this. After the show, I saw numerous people wearing their new merch on the trains to their homes or cars. For three people I spoke with, this was their first chance to see the legends of shock rock, and they were extremely grateful they finally got the opportunity to see one of their favorite bands.
I wish concert promoters would quit listening to Gene Simmons. Rock is not dead. These shows have almost all been sold out. The fans have been screaming for WASP to play the US for seven years, which I know of. I know shows are not cheap, but from what I saw, the public is desperate for live music. When bands like WASP and Armored Saint hit the road, people go. They have the reputation of crushing the stage, and it is well-deserved. If you have yet to see either of these bands, do yourself a favor and check them out!