Wishing Well – Sin and Shame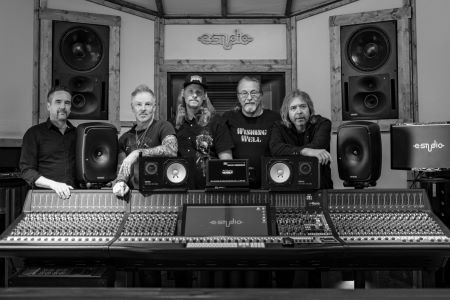 Wishing Well is a Finnish quintet ranging from Hard Rock to Power Metal, wandering through genres with no desire to settle on one style. Sin And Shame is their fourth full-length album since 2016, showing them to be prolific writers and recorders of new music. Regardless of whether you are looking for catchy hooks and tasty riffs or something faster and more aggressive, you will find something here that is your speed. If you are like many Heavy Metal fans and love all of the above, you will definitely want to spend an appreciable amount of time with this album giving your speakers a workout!
https://wishingwellfin.bandcamp.com/

Band Members:
Pepe Tamminen – Vocals
Arto Teppo – Keyboards
Anssi Korkiakoski – Guitars
Matti Kotkavuori – Bass
Juha Kivikanto – Drums
March 17, 2023 – Inverse Records https://www.inverse.fi/
Tracklist:

In The Line Of Fire
Soul Rider
Space Invaders
Mistress Of The Night
Lonely Road
Dogs Bark But The Caravan Rolls On
Sin And Shame
Heavenly Body
Dancing Across The Stars
The Golden Rule
Flying Finn
The opening riff on this album is enough to hook an old-school Hard Rock/Heavy Metal lover. "In The Line Of Fire" has that immediate groove fans of 80s Arena Rock used to flood to live shows for. I imagine how this would sound on vinyl coming through a massive pair of speakers. Then, "Soul Rider" comes in with a bit of a bluesy riff, shifting the tone slightly but staying true to the Hard Rock genre. The hook is catchy, with a rhythm that oozes as much as it flows through the track. The keys really influence the entire feel of the song.
The opening phrase for "Space Invader" has a killer riff, but the star of the show for me is that drum march shining through. I love how those last until the extra-terrestrial keys come in to take the song to the next level of the fantasy sound. This could have been the theme for the 60s, or 70s television show had our taste in music evolved by that point.
As you can hear, by the time the first three songs are complete, Wishing Well can write and record songs using a variety of hooks and techniques to get into the brain. They aren't a band that finds one thing they do well and then repeats that ad nauseum. For example, "Lonely Road" is a Power Ballad through and through. The tempo and tuning are perfectly synchronized with the past, drawing out memories from yesteryear of those songs that made you pull out a lighter and wave it in the air.
The title track, "Sin And Shame," has a keyboard-heavy opening that feels like something Deep Purple might have put out. I'm sure Jon Lord is in the afterlife with a smile on his face from hearing those notes. Killer drumming and excellent bass work underpin everything Wishing Well does. The rhythm section is rock solid, holding everything together with precision and care.
They can do instrumentals, too. "Heavenly Body" is ethereal keyboard tones layered together at the beginning, then goes to an almost church organ feel before shifting to more extra-terrestrial stylings. It's like a synopsis of everything the keyboards do in their other songs, all wrapped together.
One of the heaviest songs on the record is "The Golden Rule." The guitars are heavier here than just about anywhere else, and even the voice goes farther down in register, adding to the heavy feel of the song. Then, they finish the album with a seven-plus minute dark track, "Flying Finn." The tempo and tone are as close to Sludge as Wishing Well gets. There is something eerie about this one, and the guitars do an excellent job of creating a dreary feel that gives you the creeps.
The last two songs on this album are my early favorites. All of the songs are good, but those two stand out for me. Wishing Well definitely has a wide array of sounds and tones they love to use to engage the ears and a lot of influence from the Classic Rock era. Put those two things together, and you have a band that knows how to honor the past while keeping everything fresh and new.
MZ Ratings:
Musicianship

Guitars – 9
Rhythms – 9
Vocals – 8

Songwriting – 9
Production – 8
Overall – 8.60