Wizards Of Hazards – Supernatural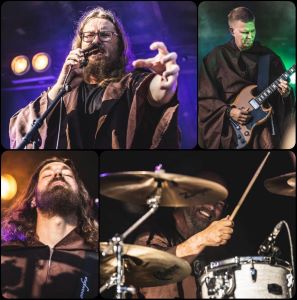 Wizards Of Hazards is a Finnish Heavy/Doom Metal band formed in 2014. After years of performing as a trio, they've expanded to four members, adding more depth to the sound. Focusing on heavy rhythms and dark tones musically, they cover fantasy and sci-fi themes lyrically, hence the title, Supernatural. Honoring the styles from the past, Wizards Of Hazards has an analog sound based on preserving some of the integrity of the 70s and 80s styles of Heavy Metal. This gives them a raw, primal sound that is a welcome reminder of yesteryear.
https://www.wizardsofhazards.com

Band Members:
Ville Willman – Vocals
Aarne Ylipiha – Guitars
Amir Nalbandian – Bass
Petri Pakarinen – Drums
February 17, 2023 https://www.inverse.fi/
Tracklist:

Grapes Of Wrath
Dusk & Dawn
Moonpowers
Wolf To Another
Someone To Die For
End Of The World
Underworld
Supernatural
The album opens on a classic count-in from Petri, which ushers in a heavy riff and sludgy rhythm. Ville uses mostly clean vocals with a good amount of grit and distortion to offset the higher end of his range, giving him a pretty impressive range to maneuver through. Aarne and Amir are a powerful team. "Grapes Of Wrath" also has an excellent up-tempo section towards the end. The use of echo effects from the past reminds me of the 70s and 80s records. The use of older tech and styles is a nice touch.
"Dusk And Dawn" also has a faster tempo, though it still has a bit of the Stoner/Doom tone. The drums have a bit of echo, making it sound like they were recorded in an old-school studio with more space for that little bit of "bounce" on the back end. Then, "Moonpowers" adds what is very reminiscent of Jimi Hendrix's backward-recorded guitars. The sound is dissonant and feels perfectly out of place, which is a weird way to describe something that feels like it doesn't belong but works well despite that.
"Wolf To Another" goes back to the band's true Stoner/Doom roots. The riff is slow and melodic and tuned just right to give the song that dark, heavy feel. The bass sets a tempo with the drums that lends itself to this style, moving the music forward at a beautiful pace. There are some layered vocals in this one that put in a growl, giving the track a more brutal tone.
In complete contrast, "Someone To Die For" is a melancholy song that consists almost solely of haunting vocals and ethereal guitars. The whole piece is forlorn and full of a longing that doesn't feel like it is returned. Once that song leaves you feeling haunted, "End Of The World" brings you back to your usual self with a hard-driving rhythm wrapped around a powerful riff. The voice is back to the tone you've gotten used to throughout the record. I have to say, the vocal performance on "Someone To Die For" left me feeling creeped out, which is really impressive. Those tones were eerie and dark and really affected my mood. Beautifully done!
"Underworld" starts with the sound muted, then has a nice kick into the song. There are a few nice shifts in the rhythm's phrasing and riff changes. More echoed vocals again remind me of the old recording methods and adding in effects. The title track, "Supernatural," is the longest song at under seven minutes. It meanders and wanders through the soundscape, ebbing and flowing through various tones and textures. The backing vocals on this one are very well done, adding some low-end chants to the mix.
Wizards Of Hazards has a lot of attitudes built into their compositions. The songwriting has a modern sensibility but an old soul for the actual recordings. The blending of eras is interesting and entertaining, mixing not just genres and styles but also techniques. Hearing some of the older stuff, like the different echo methods, brings back some fond memories. Some younger listeners may wonder how they got those sounds and tones. This will be like trying to explain a phone connected to the wall by a cord. It's best to show them how it used to be, which is exactly what this record does.
MZ Ratings:
Musicianship

Guitars – 8
Rhythms – 9
Vocals – 9

Songwriting – 8
Production – 9
Overall – 8.60