D.O.L. – Amor Brutale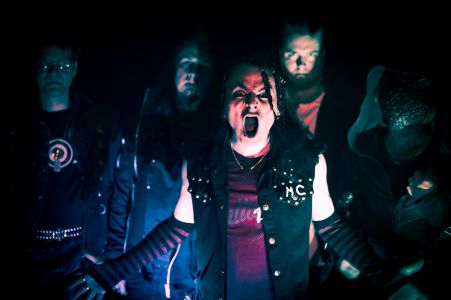 Finnish dark rock/metal band D.O.L. didn't want to just sit back and watch the world burn during the covid pandemic. Instead, they used the lockdown and sudden spare time to write their second EP called "Amor Brutale." D.O.L. is a Helsinki-based Finnish metal band. Our sound can bring to mind such bands as H.I.M., SIXX: A.M., or even some 80's metal bands.
https://eerokaasinen81.wixsite.com/dolband

Band Members:
"MC" Eero Veri – Vocals/Guitars
Hades – Guitars
Lauri – Keyboards
Jykä – Bass
Catsi – Drums
March 29, 2023 https://www.inverse.fi/
Tracklist:

Hand Of Hate
Dead By September
Lillith's Song
Drop Dead Vain
Pain Walk With Me
This album feels like a throwback from the start. The keyboards harken back to the early 2000s, and the stylings vary from 80s Glam/Hard Rock to newer Heavy Metal sounds. "Hand Of Hate" is a bit psychedelic, with a little groove and some alternative mixed in. The lighter keys offset the heavy riff, and the bass/drum combination drives both of them through the intro. The drop in verse one is well done and pairs quite nicely with the builds between the vocal sections. The variance in phrasing with the repetitions of patterns works well.
Then, "Dead By September" shows a more melodic side. The keyboards start in the 80s "under the riff" tone, adding ambiance and texture to the guitars and the rhythm. Hades and Lauri work together well, filling in the gaps well and ensuring plenty of sounds to fill the soundscape. Jykä and Catsi round out the sound with more than just a tempo. They work together to craft a foundation equal to technical skill and innovative phrasings.
Enter "Lillith's Song." This ends up being part ballad, part power ballad. It has heaviness in some sections, but even in those areas, the vocals bring in a softer quality to offset the darker textures. This is where "MC" Eero Veri shows out a bit, bringing in little flairs of cry through the almost pain-filled tones of the main vocal line. He warbles into a quick cry, only to drop back down to the main note. He shows much of his range on this one, proving he can work across multiple genres and styles.
"Drop Dead Vain" and "Pain Walk With Me" both have melodic heaviness but approach that from different angles. Using different riffs and keyboard styles for each song, D.O.L. shows they can cross decades of influences from one song to the next. "Pain Walk With Me" has an 80e feel to the guitars and keys, while "Drop Dead Vain" is more of the early 00s. Both songs sound like they belong; they fit with the album and band's sound and tone.
D.O.L. have figured out its sound and knows where they want to fit into the Hard Rock/Heavy Metal musical spectrum. Their identity is solid, and their vibe is crystal clear. Some bands try to go too far and lose what makes them unique, but not this band. They've got a firm grasp on their niche and will hopefully keep filling that spot up with more killer tunes like these.
MZ Ratings:
Musicianship

Guitars – 8
Rhythms – 8
Vocals – 9

Songwriting – 9
Production – 8
Overall – 8.60