Magnets For Maniacs – Snakes & Cynics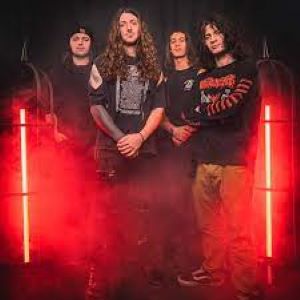 Formed in 2018, Magnets For Maniacs has worked to build a following in the Connecticut area and is working hard to expand into the greater New England/North East scene. Creating their unique blend of Thrash, Groove, and Metalcore, they bring attitude and angst to their tracks in a way that is quite pleasing to the ear, if you like that. Face it, we're all here because we love Metal, especially when we get a decent mix of genres and styles that hit on more than one of our favorite types. These guys raise a fist, scream "Death To Boring Metal," and then deliver something new and exciting!
https://maniacthreads.com/?fbclid=IwAR0pZ4bMRTaqFGPEOmdL8PwDbRfO_OSRdr6ZtxOofr9iIKdjlK-vap2icx0

Band Members:
Jay Corradino – Harsh Vocals
Anthony Barna – Guitars
Brandon Artz – Bass/Clean Vocals
Justin Annello – Drums
May 11, 2023
Tracklist:

Atlas
Weight Of The World
872
Headshot
Goodbye
All Eyes North
Deadfall
The album opens with "Atlas," 30 seconds of muted vocals and a build to launch us into "Weight Of The World," a Metalcore song with influences mixed in from Nu-Metal and Death Metal. The rhythm and riff are quite excellent chugging phrases that reinforce the genre-bending. The switching vocals, going from clean to harsh, give a bit of a head spin, keeping you on your toes. Jay and Brandon bounce off each other at times and harmonize at others, giving the song a bit of a chaotic feel, like a mental struggle under a heavy weight.
"872" opens with mournful bass before the sonic blast of a riff kicks in. This is the longest song on the album at just over five minutes, and it uses that time to hit hard, then let you take a breath, only to sucker punch that air back out of you. You know the pauses are not meant to save you, but that's okay; you don't want to be saved. You know the kick is coming again, and you use that as a chance to launch. Sorry, just picturing this song live and how the pit would have a freaking killer time during this one….
For more of a Thrash Metal vibe, check out "Headshot." This one is pure power from the guitars. That riff is badass and the kind of thing I love from heavier genres. The wavering vocalizations from Brandon add some excellent tonality to this track. Anthony and Justin show out on this track, building something extraordinary together, especially at the breakdown. Then, Brandon gets his time to shine on "Goodbye," leading the riff with a really nice bass line. Each musician gets time to step to the front and give a quick flair, proving their mettle and Metal.
"All Eyes North" is a great mix of Thrash and Metalcore, straddling the line for a bit, then shifting back and forth over it a few times just to have fun. Then, they wrap the disc with "Deadfall," a Melodic Metal song that fuses everything together differently. This variety of tones and sound quality gives them a unique range of sounds they can use to create different songs that all feel like they belong together despite different influences.
MZ Ratings:
Musicianship

Guitars – 9
Rhythms – 9
Vocals – 9

Songwriting – 9
Production – 9
Overall – 9.00