The Unslain – Descending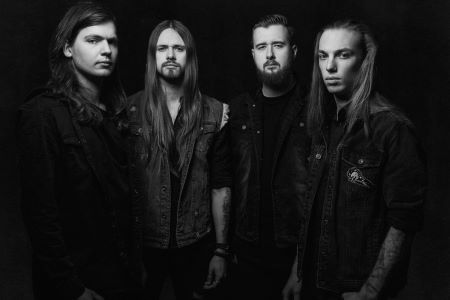 Dutch Heavy Metal band The Unslain was first formed in 2013. Descending is their sophomore effort and combines sounds that connect classic Heavy Metal with more Modern Metal and Metalcore. With a broad range of influences that go from Metallica, Megadeth, and Iron Maiden to newer sounds like Bullet For My Valentine, Trivium, and Lamb of God, their eclecticism provides a great new perspective of the past. When old and new come together, both are made better than ever before.
Band Members:
Bart Foppes – Guitars
Jeroen Hermsen – Guitars/Vocals
Luc Builtjes – Bass
Indy Wessels – Drums/Backing Vocals
May 19, 2023 https://www.rexiusrecords.com/
Tracklist:

Welcome
To Hell
Quintessence
Unslain
Within
(In) Hell I Am
Eroded
Into The Unknown
Let Me Stay
Long Road Out Of Hell
Eden – Part 1: 'Apocalypse Postponed'
"Welcome" is a traditional instrumental intro song, running shorter than everything else at just over two minutes. The Unslain use acoustic and electric guitars to build the intro from gentle to heavy, augmenting this with ominous keyboards and killer rhythmic support from the bass and drums. The intro leads us to "To Hell," a song with a solid riff and excellent rhythm, and gruff vocals round out the sound. The chugging guitar phrasing is a beautiful throwback to the old-school Heavy Metal days. The influences on this album are heard right from the start, and I'm here for it!
"Quintessence" has a newer feel, seamlessly moving into the Modern Metal realm. The semi-rap rhythm delivery of some of the vocal lines even skates close to the Nu Metal line without fully crossing over. You can tell this is a band well-versed in the past and actively working to fuse those influences into something that will inspire the future. For yet another stylistic shift, "Within" opens in full on Thrash Metal mode. These guys know how to blend and mix their genres well.
I love the fade-in for "Into The Unknown." The build is done well, growing while using the exact phrase, only to have a well-executed shift as the first verse hammers in. The change from melodic to heavy is a well-known, fan-favorite shift technique. It's been done lots of times before and will keep being used because done well like this, it really grabs the listener and makes them take notice. There is a lot of thought written into these songs. The writers obviously took the time to craft the songs well and make sure they made sense. The songs have a lot of coherence, making this whole album feel well-planned and executed.
"Let Me Stay" fills the power ballad requirement, adding another reason to love this album. The Unslain wants to honor the past and present a history lesson to the next generation. Despite what some old people say, I've been saying for years that Rock music is in good hands. This is proof of that assessment.
The album concludes with "Eden – Part I: Apocalypse Postponed." This is the crossover song that personifies the whole body of work. There are Thrash and Heavy Metal phrases mixed with Modern Metal stylings. That fusion of styles works in this track. Oh, and they even threw a little Progressive Metal just to really round out the sound.
The Unslain is definitely a band that needs to be on your radar. If you like any version of metal from the last 40 years, there is something here for you. They have studied their history and know how to play everything from the old to the new and can use everything in between to create an appeal for all of it. Some bands struggle to find their voice, but not The Unslain. Hear them roar!
MZ Ratings:
Musicianship

Guitars – 9
Rhythms – 9
Vocals – 9

Songwriting – 9
Production – 9
Overall – 9.00