Ice Giant – Ghost Of Humanity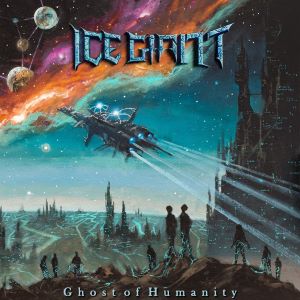 Ice Giant is a Boston, Massachusetts-based quartet working to dominate the Power/Death/Symphonic Metal realm. Formed in 2015, Ice Giant has taken the time to find their best line up, which they have done. Having seen them live five times, getting to know them as people (yes, musicians are people, too!), and hearing their new album quite a few times, I have decided this is a one of those bands worth investing your time. Fleet-footed powerhouse drummer Alex is phenomenal, Dan the bassist plucks, slaps and strums a six-string like a boss, and twin guitar/growl threat Livvy and Eddie trade off leads and rhythms with voices and instruments. This is truly a badass collection of individuals who become greater than the sum of their parts the moment they begin playing. While the album was recorded with session musicians prior to Dan and Alex officially joining the band, you can hear the personal stamp they have put on their pieces, giving the songs a different, yet really cohesive feel.
https://icegiantband.bandcamp.com/album/ghost-of-humanity
Band Members:
Livvy Gallop – Guitars/Vocals
Eddie Shifflet – Guitars/Vocals
Dan Saillant – Bass/Vocals
Alexander Paiva – Drums
Session Musicians:
Zak King – Drums
Peter de Reyna – Bass
Vikram Shankar – Keyboards, Orchestrations
September 8, 2023 Self-Released
Tracklist:
1. Heritage
2. Grandeval's Machine
3. Emergence
4. Serenity of Darkness
5. Home for Eternity
6. Venthos Prime
7. Ghost of Humanity
8. In the Maw of Reality
9. Unification Epoch
10. Visages of Our Past Despair
11. Legacy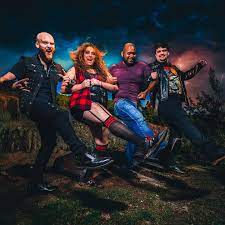 As with many Power Metal albums, the opening track is an instrumental intro that sets the tone and prepares you for what is to come. "Heritage" is just such a piece, slowly building to a crescendo that launches into "Grandeval's Machine." The intro has some really nice orchestration layered in by Vikram Shankar, a visionary musician who is both talented and prolific. You hear some of that under the riff on "Grandeval's Machine," but most of what you hear on this track is intricate guitar work, rapid-fire drumming, and a bass piece that includes a solo from the inimitable Peter De Reyna.
Ice Giant is one of those bands who use both clean and harsh vocals, though the way they use layers and three different vocalists to create said layers, is a refreshing new take. Livvy and Eddie carry most of the load with Dan providing the third voice on stage.
Like many Power Metal bands, the skills of each member is highlighted and celebrated, both live and on this album. You hear bass solos and sections where the drums move to the front and take a prominent lead role. Blast beats are in heavy use, but there is also a lot of melodic pacing from the drum kit, showing a range, displaying serious skill with phrase changes in each and every song. Similarly, the bass shifts from pounding rhythms to muted undertones that almost hide within the frenetic work.
On tracks like "Serenity Of Darkness" and the title track, "Ghost Of Humanity," you get heavy riffs with delicate, intricate lead works and twin harmonies from the guitars, variable beat patterns from the drums, bass lines that drive through all of that, and keyboards/orchestration that accentuate the overall tone of the song, giving an Epic Metal feel to the composition. Whether driving through the heavy riffs or trading off killer solos, the guitars are in constant motion, leading the charge.
The voices and the words take the listener on 4-6 minutes journeys. Supported by the instruments, the clean and harsh vocals bring the character of the song to life. There is a depth to the words from the way the vocals are constructed. Thought is given to how each section must sound. This is why you often get shifts from clean to harsh or layers in different places, to provide a richness to the words, add texture to the meaning behind each phrase.
This is an album that does well with multiple listens consecutively. Take the time to focus on each element, rhythm, leads, keys, voices. This allows you to hear the nuances added in, the layers built to give you something new to hear on every playthrough. It is possible, even after (at current count) five trips down the tracklist in a row to catch new things I missed the first four times. When Power meets Progressive, Symphonic, and Death Metal, there is no end to what is possible. There is also a whole lot to love!
MZ Ratings –
Musicianship:
Guitars – 10
Rhythms – 10
Vocals – 10
Songwriting – 9
Production – 9
Overall – 9.60