Exi(s)t – Collateral Damage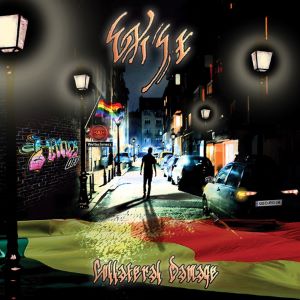 Ron "Brew" Brouwer is a Dutch musician, lyricist and vocalist who has always been drawn to music, especially the harder end of the rock spectrum. Formerly a teacher and DJ, he has also written and recorded with a number of bands. His latest project is the fulfillment of a life-long dream, release a solo record. Collateral Damage is the culmination of a lifetime of hopes and dreams, but not the end of the road. No musician ever thinks about stopping. Creativity is something that does not retire or even fade away. Surely there is more to come.
https://exist030.bandcamp.com/album/collateral-damage
Band Members:
Ron Brouwer – all lead vocals; harmony vocals
Tim Beimer – harmony vocals
Katja Klootwijk – Empress Theodora on 'Sancta Sapientia'
André Veenstra – harmony vocals on 'Sancta Sapientia'
Sara Weeda – harmony vocals on 'Rewarding Caress' and 'Sancta Sapientia'
Tom de Wit – newscast presenter on 'Peril Accelerator'
Dennis van Bussel – lead and rhythm guitars on 'Peril Accelerator' and 'And So It Ends'
Luigi Guilbot – lead and rhythm guitars on 'Scars', 'Hands Off' and 'Sancta Sapientia '
Richard How – keyboards and rhythm guitars on 'And So It Ends'
Gerben Klazinga – keyboards on 'Haloes' and 'Rewarding Caress'
Tom Hammond – trumpet on 'Haloes'
Jean Pageau – flute on 'Georgia'
Kees Harrison – bass guitar; bass solo on 'And So It Ends'
Tristan Turner – double bass on 'Haloes'
Hans in 't Zand – drums and percussion; Tom de Wit
Tom de Wit – rhythm guitars, bodhran on 'Georgia', baglama on 'Sancta Sapientia', all other instruments
Children's chant on 'Hands Off' recorded by Ron Brouwer in Vientiane, Laos in January 2020
June 20, 2023 https://brosoundhouse.com/
Tracklist:
Peril Accelerator
Haloes
Scars
American Dream (Weltschmerz)
Rewarding Caress
Georgia (instrumental)
Sancta Sapientia
Hands off
And so it ends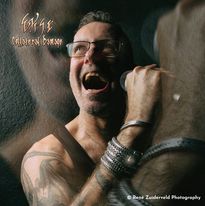 This album is one that will catch you off guard. It fuses Progressive Rock and Metal with many other styles and genres to create an Avant-Garde Metal record wild enough to leave a very lasting impression. This is one of the best rollercoaster rides I've had in a while.
The album starts with a foreboding intro voiced over with a report about how the doomsday clock is now at 100 seconds before midnight. Should Iron Maiden rewrite their iconic track "Two Minutes To Midnight" to fit this new information? Nah, that would sound weird. "Peril Accelerator" lets us know what the theme and tone of this record will be. Mirroring reality, the track has multiple shifts from slower to faster, giving the impression the world is ending not as a linear event but as a chaotic chain of events that are unpredictable and erratic.
"American Dream (Weltschmerz)" uses harsher vocal tones in a Germanic language to give an even darker impression. The feel of the song is ominous, dark, and anxiety inducing. This is a massive contrast to "Haloes" just two tracks before. That song is morbid, depressing. The Dark Jazz and mournful vocals craft a different shade of blackness, covering the soul in dread.
The sheer audacity of having those two songs on the same record is bold, brazen, and ballsy. I really appreciate the risks taken on this album. Horns, strings, crooning vocals, growls, and even 80s keyboard flair drive an endless variety of tones and textures that are worthy of praise. The keyboards on "Scars" grab me be the nostalgia and hold on for dear life. Even the guitar solo feels like a proper throwback!
The Arabesque music and haunting female vocalizations on "Sancta Sapientia," coupled with the male chorus is one of the highlights of this record. As much as I like the other songs, this is the one that hooks me. The shifts in tempo and tone never lose focus, thanks in large part to Sara Weeda. Her voice is everything; folksy, powerful, clear, and perfectly molded into the song. I will remember this song for a long time to come because of how she amplified the song to new heights.
Ranging from piano heavy ballads to fast-paced rockers, this album is packed with diversity that somehow still manages to maintain a consistency thanks to lyrical themes and excellent writing. By using many different vocalists and a variety of layering/backing vocal techniques, they create different characters to move the story forward, carrying the tale to the logical conclusion.
Exi(s)t is interesting, entertaining, and informative. There is so much to dig into on this record. I am always impressed with discs that make me think, feel, and analyze what I'm hearing. This is a record that does that and more.
MZ Ratings:
Guitars – 9
Rhythms – 9
Vocals – 9
Songwriting – 9
Production – 9
Overall – 9.00